07 May 2020
British-based manufacturer rises to covid-19 challenges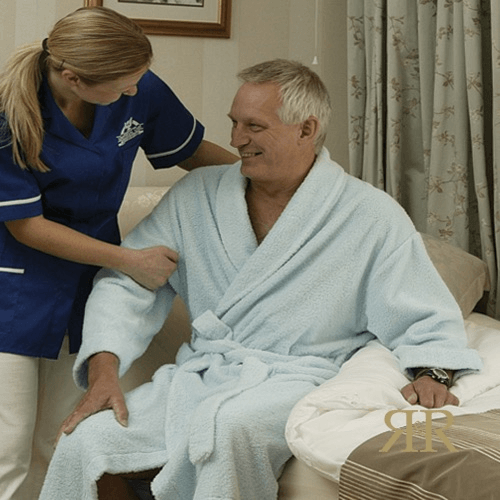 RISE & RECLINE LTD – Help for OT's during COVID-19 Restrictions
Occupational Therapists are still working in difficult conditions to meet the needs of their patients so Rise & Recline have looked at how to support them during the COVID-19 pandemic. The British-based furniture manufacturer has said the decision to remain operational is to enable its customers to meet orders from the health and social care sector as the NHS looks to expedite hospital discharges to free up beds.
1. Rise & Recline are continuing to make products at our Nottingham factory as they are needed but the restriction on access to care homes and individual homes is a real challenge. However now more than ever, as people with health issues are spending more time at home or in care, having suitable products to make them as comfortable as possible is essential to their wellbeing.
2. The Rise & Recline team are using Zoom or Teams to support OT's with an online consultation. This enable you to discuss your requirements with an expert who will help design a chair or bed that meets the needs of your patient. They have also introduced further with a new white-glove service for Occupational Therapists and their patients. This will provide a home delivery service including a commissioning of the product all carried out within strict social distancing rules.
3. The Rise & Recline are proud of their small production team - who are rotating shifts in the factory so there is space to adhere to social distancing guidelines. And their skeleton office staff who are insuring all calls are answered and business processes remain smooth.
These steps have ensured that Rise & Recline can still accept orders from Occupational Therapists & mobility stores still trading and is able to maintain its 7 – 10 day turnaround for its ranges, highlighting the benefit of manufacturing in the UK.
"The setting up of the field hospitals will stretch the current supply chain due to the fact that many suppliers are reliant on stock or parts from overseas, including a lot from China," explained John, a representative of the team.
"We have been told that shipping costs are exorbitant even when available, thus there is a great need for UK companies like Rise & Recline to keep producing healthcare products. All of our chairs are classified as Class 1 Medical and have all of the processes and controls in place to meet the current requirements.
"We are told that hospitals are looking to free up beds for critical patients and this is creating a need for chairs & beds for use in the home of those discharged."
White-glove delivery service for Patients
To help support Occupational Therapists, the bespoke mobility furniture supplier has also introduced a new white-glove delivery service to enable quick, efficient and professional deliveries to OT's and their patients.
Available only in mainland UK, the service is aimed at assisting OT's to complete their patients orders by handling the delivery and installation of a Rise & Recline chair or bed to any address.
Included is the freedom for OT's to choose a date that is convenient for their customer, with Rise & Recline calling on the day of delivery with an expected estimated time of arrival.
On site, the company stated it will carry out a full installation and demonstration of how to use the product and take an image of the product in-situ once the installation has been completed, along with the collection of any monies outstanding from a customer.
"We understand that these are difficult times for our trade partners, and we have been in discussions with OT's to try and find out what we can do to support them during this period," said John, a representative of the team.
For white-glove service prices and availability or to book an online consultation you can contact the company directly on 0115 9133572 or email info@riseandrecline.co.uk