07 May 2020
Creativity in occupational therapy amid COVID-19 lockdown with Samantha Shann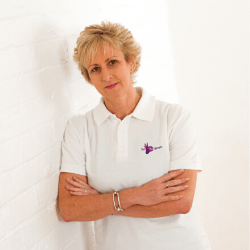 Over the last few weeks our lives have been disrupted in ways that we could never have imagined even 4 months ago. As occupational therapists many of us have continued working but have experienced role changes and environmental adaptations including new locations, roles and responsibilities, PPE and virtual working.
The changes have also affected our home lives with children home schooling or going into school yet socialising with different sets of friends and age groups, partners and/or older children working from home, older and vulnerable relatives self isolating and requiring extra support with shopping and virtual socialisation. Again situations have been different for each of us with some experiencing loss of earnings and lack of routine to others that are enjoying more family time. Social distancing has made us all think differently about our interactions not only whilst out in public areas but how we can, if required, offer or provide guidance to carers on managing intimate care needs and the need to move online for teaching, family gatherings and exercise routines.
With all this change and uncertainty in our work and home lives it is important to remember that some of us in times of change and stress will easily adapt our occupations and find purpose, perhaps even enjoying new challenges, whilst others will actively choose to press pause and slow down and others will have no choice but to stop or be challenged by extra or different work demands, lack of opportunities and/or decreased motivation. This is the same for us as it is our clients and family.
As occupational therapists we are familiar with the concepts and importance of purposeful and meaningful occupations, the just right challenge and occupational flow. However in today's world of lockdown it's perhaps a good time to reflect and I've taken the last few weeks to reconsider some of these concepts especially occupational flow, described by Csikszentmihalyi, M, & Csikszentmihalyi (1988) as
"a positive feeling that occurs when there is a balance between perceived challenges and that person's skills. It may include enjoyment, intense or complete involvement, deep concentration, or the loss of time."
But what does this mean in lockdown when for many people occupational flow may be proving difficult care of lack of opportunities and changes in circumstances. As occupational therapists this is nothing new; whilst working with clients recovering from illness or living with life changing conditions and/or long term disabilities we continually use our skills in activity analysis, grading and adapting activities, occupations and environments to help people achieve outcomes.
Analysing our own occupations in more detail as well as helping our clients adapt occupations and find purpose in daily routines can help us to achieve not only occupational flow but also occupational balance whilst building up resilience. Thus enabling us to adapt present routines, enter post lockdown life, or continued isolation for more vulnerable persons, with some level of optimism.
Some other useful concepts I have recently revisited care of Garcia and Miralles (2017) are:
1. Microflow - enjoying mundane tasks & preventing boredom by adding a small layer of complexity into everyday tasks. Sometimes we do this anyway by singing our favourite song whilst cleaning the bathroom or vacuuming to our favourite song on our playlist. The small layer of complexity not only motivates but also often adds achievable physical demands.
2. Living an unhurried life – we often pride ourselves on our multi-tasking abilities however maybe there is another way to accomplish many different things a day by staying busy but doing one thing at a time. Setting specific screen time and times for emails, eating at the table so when you do sit down to your favourite box set you can give it your full attention, adhering to weekend/days off as different routines to working days.

3. Living in the moment – whilst lockdown and social distancing is challenging there are some positives such as going for a walk, hearing birdsongs and less traffic pollution. Whist the future is uncertain we need to look after our mental health trying not to fear the future, accepting what we can and cannot control and make the most of routine things.
Hasselkus (2002) reminds us that creativity can arise from illness, so that when health is disrupted and people are thrown into 'chaos' and the orderly narrative of life is disturbed, this disruption is actually a state of potential creative chaos, during which there is transition whereby people may see positive and creative solutions, which help them to restore equilibrium.
There seems to have been, whether real or personally perceived, a need to be creative in these times and that in itself can be an added pressure; trying to be or do something extra and new non top of all other demands. However, if we are realistic and consider again our professional literature and history there is an important distinction made between creativity with a big 'C' and the creativity that serves personal satisfaction and fulfilment, in other words 'the small everyday acts of creativity' (Cohen, 2009). Just as remembering resilience is not about doing it on our own or taking on more responsibility, resilient people don't have all the answers but are self-aware, practice acceptance and keep things in perspective whilst accepting change.
Creative activity does require a certain amount of courage and independence however, the nature of creativity is actually the process of bringing something into being that has never existed in quite the same form before (Perrin, 2001). Is this not how we are adapting and refocusing during this pandemic both personally and professionally? By demonstrating the essential and creative contributions that occupational therapy can consistently bring to the rehabilitation process not just for those living and recovering from COVID-19.
In responding to COVID-19 the Royal College of Occupational Therapists (RCOT) has provided many COVID-19 resources and much needed support. Other international occupational therapy associations are doing the same with the American Occupational Therapy Association (AOTA) providing free webinars and the Canadian Association of Occupational Therapists (CAOT) moving their annual conference to an online event. The World Federation of Occupational Therapists (WFOT) has also published their own resources as well as collating those from member and partnering organisations in different languages. WFOT have also implemented a dedicated professional discussion via their online platform OTION. Join the discussion and remember, "Occupational Therapy is where science, creativity and compassion collide." (Kensky, 2016).
Useful websites:
References
Cohen, G. (2009). 'New theories and research findings on the positive influence of music and art on health with ageing'. Arts & Health. 1(1), p.48-62.
Csikszentmihalyi, M, & Csikszentmihalyi, I. (1988). Optimal flow experience: Psychological studies in flow in consciousness. New York: Cambridge University Press.
Garcia, H. & Miralles, F. (2017). Ikigai; the Japanese secret to along and happy life.
Hutchinson, London: Penguin.
Hasselkus, B,R. (2002). The meaning of everyday occupation. Thorofare, NJ: Slack.
Kensky, J. (2016). Welcome Ceremony & Keynote: a story of recovery and resilience.
AOTA Conference. Available at: https://www.aota.org/aota16video
Perrin, T. (2001). 'Don't despise the fluffy bunny: a reflection from practice'. British Journal of Occupational Therapy. 64(3), p.129-134.
Samantha Shann
Director and Occupational Therapist of The OT Service Ltd