18 Sep 2017
POSTURE AND WHEELCHAIR ESSENTIALS - BIGGER & BETTER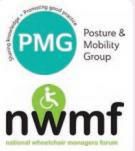 In 2016, Posture & Mobility Group (PMG) and the National Wheelchair Managers' Forum (NWMF) made their training debut at The Occupational Therapy Show.
In 2017, the organisations are returning as official supporters once more, with a bigger and better programme, hosting training sessions in the Posture and Wheelchair Essentials Theatre. Taking place on both days of the show, 10:15 - 11:30 and 14:00 - 15:15, with four 30-minute sessions per day there will be something for everyone interested in posture and wheeled mobility. Offering practical solutions, to help you offer the best service to clients requiring a wheelchair and/or special seating, the sessions will be ideal for those who refer clients to wheelchair services, are looking to work in, or have recently started working in the field of posture and wheeled mobility. Last year's sessions proved extremely popular, so similar topics will be included again, in addition to some new ones. The full programme will be announced very soon, but in the meantime, here's what you can expect:
Basic wheelchair assessments
Powered mobility basics
Paediatric seating solutions
Pressure care for wheelchair seated clients
Postural assessments in the seated position
24-hour postural management
Personal Wheelchair Budgets (PWBs) update
Ask a wheelchair professional' panel Q&A
The PWB session will provide information about the funding changes taking place in English wheelchair services - really important for anyone working in or with wheelchair services in England. To round-up PMG and NWMF's contribution to the Posture and Wheelchair Essentials Theatre, a multidisciplinary panel of experienced professionals from the field of posture and wheeled mobility will be available to answer any relevant questions you may have!
Throughout the two days, there will also be exhibitor sessions taking place in the same theatre, providing extra information about relevant products.
To secure your free pass to The Occupational Therapy Show visit www.theotshow.com/newspaper