06 May 2020
#ThrowbackThursday: Driving Mobility educates plentiful healthcare professionals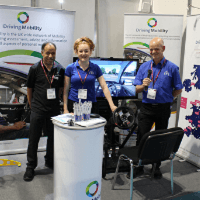 Driving Mobility educates plentiful healthcare professionals at OT Show
Driving Mobility, the charity that accredits a network of specialist driving assessment centres, showcased its services at the OT Show 2019 through CPD approved education and advice.
Attendees at last year's OT Show were able to engage with Driving Mobility to better understand how this respected charity provides appropriate support to individuals seeking independent mobility.
Driving Mobility was represented by members from two of the independent organisations within its nationwide network, namely William Merritt Disabled Living Centre and RDAC. Supported by the Department for Transport, Driving Mobility centres offer professional support and driving assessments to clients who need to gain, or retain, the ability to drive following a diagnosis involving impairment or disability.
Philip North, Senior OT from the William Merritt Disabled Living Centre provided a series of educational seminars which were well attended with over 150 attendees recorded on day one. Entitled 'Medical Fitness to Drive – maintaining independent mobility' these seminars outlined how Driving Mobility assessments check client physical and cognitive abilities with a view to driving a vehicle safely and in comfort. This CPD education was complimented by practical advice on vehicle adaptations and an impressive interactive driving simulator.
David Blythe, Manager of the William Merritt Disabled Living Centre, commented:
"The OT Show completed a successful year of exhibitions for Driving Mobility. We have increased awareness of our services to drivers, passengers, families and healthcare professionals. Our final showcase was a fitting climax as we welcomed a large number of OTs onto the stand – particularly during Philip's presentations. Delegates were able to reflect on the role of occupational therapy within driving and consider many practical elements associated with cognitive ability. We have already begun planning our 2020 exhibition schedule so more professionals can understand how we successfully signpost clients to positive outcomes."
https://www.drivingmobility.org.uk/
https://twitter.com/DrivingMob/ https://www.facebook.com/drivingmobility/