24 Sep 2021
RMS to Launch New Interactive Web Platform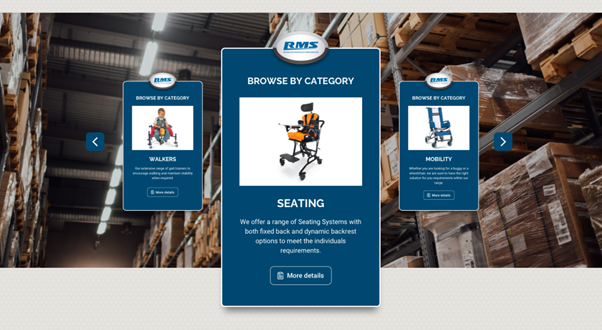 RMS to Launch New Interactive Web Platform
How many times have you sat in front of your computer, your stress levels slowly rising as you try to find a tiny replacement part for your wheelchair, the internet a yawning void that even though you pour hours of effort into, you can't seem to find the parts you are looking for - and even if you do find the bit you need, there is no easy way to purchase it online.
Well… If this has been you, RMS have listened to these problems and decided to innovate their online platforms to make life easier and simpler for wheelchair and mobility customers.
The new platform is at the forefront of modern digital innovation including an interactive product builder for their fully customisable mobility products, a unique trade platform for EVERY member of the trade community, a comprehensive archive of technical data and drawings, plus the ability for individuals to purchase products direct from the manufacturer.
RMS want to make the purchasing journey as easy as possible not only for individuals but also for new trade customers as well. After 40 years of supplying the NHS, Schools and Child Development Centres, RMS are opening up their doors to independent mobility retailers - using their new website as the perfect platform for those looking for premium products with exclusive discounts.
The new website launches on the 1st September - so get ready to have a look around this new online platform and discover how it can help you! Check it out - www.rms-rehab.co.uk