24 Sep 2021
Adaptawear Comfort Clothing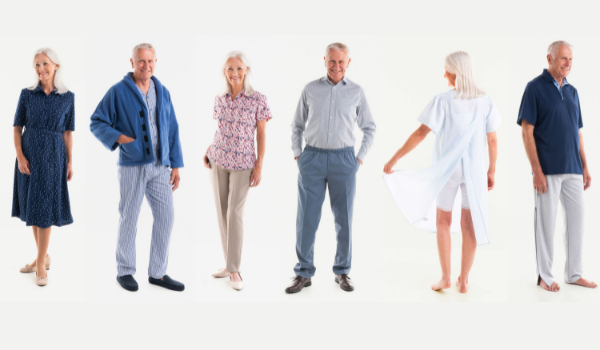 Our newest range of products use bespoke velcro fastenings to help those who suffer with hand dexterity or conditions
Adaptawear comfort clothing has been designed to help independent living and assisted dressing with the aim to make getting dressed easier and less stressful for both the wearer and carer. We have a range of products for day and night that use bespoke fastenings and adaptations such as velcro, magnets, petal backs and large hooks that can be helpful for a wide range of conditions.
Ideal for those bed-ridden, struggling with mobility or needing dressing assistance - the Iona nightie has been specifically designed to improve night time difficulties. This unique product comes with a fully opening back, shoulder openings on both sides, and easy poppers. As the nightgown opens up completely flat, it can be put on from a lying or seated position. The open back function with a generous overlap ensures dignity when toileting and a quick drying cotton fabric is comfortable and practical. The Iona nightie is also in our bundle range, giving you two nighties at a reduced rate. We also have a range of all-in-one nightwear with shoulder to ankle zips, these are designed for those who tend to inappropriately disrobe and can be put on from a lying position. The fabric is moisture wicking and therefore very comfortable and helps stop the spread of bacteria.
Adaptawear has a further selection of helpful nightwear options, including the popular Petal Back range and fully front button nighties/nightshirts. Front fastening bras and comfortable cotton underwear are also a best seller; with a customer recently sharing they had 'regained their independence with such helpful items.'
Our newest range of products use bespoke velcro fastenings to help those who suffer with hand dexterity or conditions such as Parkinsons and Arthritis. We have a selection of front fastening velcro shirts for men and women, with styles to suit every occasion from casual dress to formal gatherings, long sleeve and short sleeve. We also have a great magnetic option for men* which incorporates specially hidden magnets for a seamless closure. All of our adapted items are altered in a discreet way to pair with your existing wardrobe.
Adapted trousers are also a key product in the Adaptawear collection. Our elastic waist pull on range for men is a great option for those who spend long periods of time seated (in a wheelchair for example) due to the roomy high waisted back. With a pull-on fit and cord to tighten they also remove the need to struggle with complicated zips and fastenings. We also carry discreetly adapted options for those living with incontinence or fast toileting needs. The easy-fit drop front trouser looks like any other but has a wide opening, velcro tab to assist toileting. The last key trouser to mention is the tracksuit pants with side zips, this unisex style unzips from the waistband to the ankle and is therefore incredibly useful for any leg injuries, bandages or hospital treatments on the area.
A final product to note is our stylish Richmond dress, this practical but pretty dress opens to the waist at the front giving plenty of room to put over the head and insert arms. The back of the dress has an overlap going from the shoulder blades to the hem. This not only makes assisted/fast toileting quick and easy but means when the front buttons are open, there is plenty of room to slip the dress over the head and pull comfortably down.
For more information on the Adaptawear range please visit www.adaptawear.com or call 0800 051 1931 and we will be happy to assist you.
*Unsuitable for Pacemaker users and sufferers from Deep Brain Stimulation.