24 Sep 2021
Acquired Brain Injury – Neurobehavioural Rehabilitation and positive life changes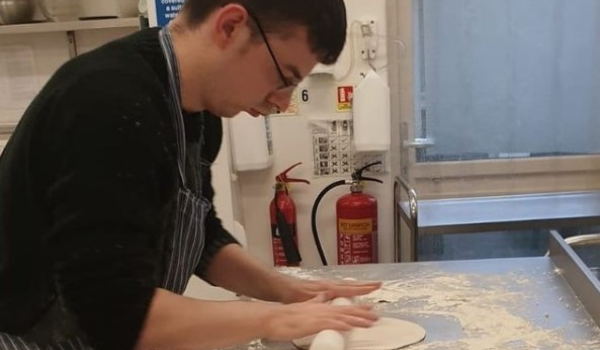 Jamie is an ex service user who has shared his story and insights into the effects of his brain injury and his experiences of rehabilitation.
Graham Anderson House in Glasgow is a service run by the Brain Injury Rehabilitation Trust (BIRT), which is part of the Disabilities Trust. The unit specialises in the rehabilitation of people who are experiencing behavioural disorders following a brain injury. Individuals may also have severe cognitive, physical and / or emotional problems including verbal and physical aggression, impaired social functioning, disinhibited behaviours and neuropsychiatric symptoms. Rehabilitation is based on a neurobehavioural approach and focuses on enabling service users to function more independently as well as participate in as many of their previous roles and activities as possible, while developing their lives with privacy, dignity and respect.
Jamie is an ex service user who has shared his story and insights into the effects of his brain injury and his experiences of rehabilitation. Jamie experienced a severe brain injury at the age of 22 when he was involved in a motorbike accident. Prior to the accident Jamie was going through a difficult period in his life, he was taking drugs and was experiencing low mood. In his own words; "before I had the brain injury life was not good because I was involved with the police, I was in debt, I got my bank accounts closed"
He was admitted to Graham Anderson House and initially struggled to walk independently, he had issues with his memory, had visual field difficulties and had some word finding difficulties. He had input from a full multidisciplinary team including psychology, occupational therapy, physiotherapy and speech and language therapy.
Jamie says: "when I started in rehab at first I was sceptical about staying because I didn't think it was for me but then I stayed and it grew on me and I fitted in well with everyone at Graham Anderson House. I had to learn to walk again and how to get my balance and I had some problems with my memory and speech. I was very motivated; and I think back to rehab being one of the best experiences of my life."
The neurobehavioural approach to rehabilitation includes working with rehabilitation support workers so that skills are practised through all aspects of everyday routines and in real life settings as much as possible. Jamie became independently mobile, got back into a good fitness regime and started going to the local gym independently. His word finding difficulties improved and he worked hard on using memory strategies such as using a diary and notebooks to support his memory. He was able to have the opportunity to move into the Independent Living Skills flat within Graham Anderson House and he worked towards becoming independent getting the bus to shop for his own food, cooking all his own meals and keeping the flat clean and tidy.
Prior to his injury Jamie had worked as a chef so it was one of his rehab goals to work on his vocational skills with the aim of gaining further employment after he left Graham Anderson House. He participated in the Woodwork and Gardening groups with the Vocational Assistant and volunteered twice a week within the main unit kitchen as a kitchen assistant. These sessions not only helped to increase his functional and cognitive skills but also gave a valuable boost to his confidence and self-esteem.
Outcomes
After he was discharged he moved out of the area to live nearer his family. He was able to get a job working in a warehouse and he then worked in a café. He studied for the L1 functional skills Maths qualification and passed, which allowed him to get an apprenticeship in customer service working for an Electrical Wholesale Company.
In his own words;
"I am just over three months into my apprenticeship and working 40 hours per week right now and it is the best job I have ever had because my internal customers and colleagues are really friendly, and this makes a happy workplace. I have changed my life completely and used to take drugs but I do not take any drugs anymore. I am much happier than ever before and want people who find themselves having had a brain injury to be able to see my story and hopefully this will give them hope that life after can be good if you set your mind to it".