19 Oct 2021
#OTalkTurnsTen - So we are celebrating with a little help from the OT Show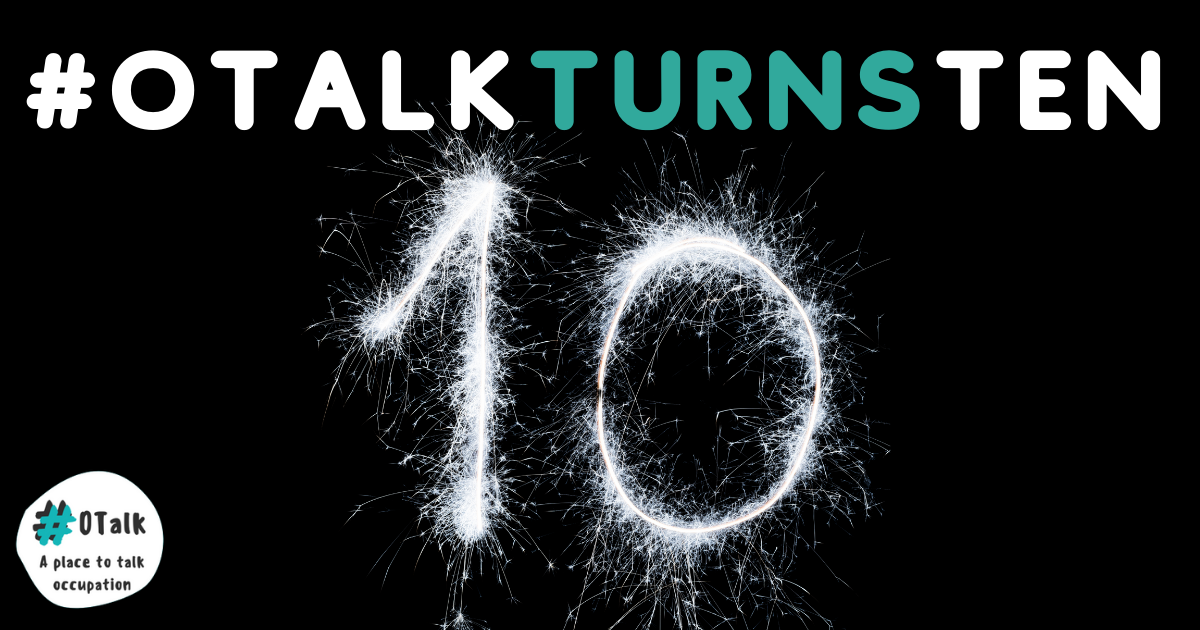 #OTalk is a weekly Twitter chat, designed to enable discussion about everything occupational therapy.
Twitter chats are a conversation that happens on Twitter at a designated time and day about a certain topic. Every Twitter chat has a hashtag, which allows anyone on Twitter to follow the chat or even participate.
#OTalk was one of the first health and care professional tweet chats, and amazingly it is also the longest standing and most frequent. The first live twitter chat was launched on the 25th October 2011, coinciding with the celebration of World OT Day that year. The chats have continued ever since and take place every Tuesday 8-9pm GMT. The aim is to provide a forum for interested parties to discuss key issues in occupational therapy and occupational science.
The first ever chat was on 'Occupational therapy professional identity and how we describe our role' and since then we have covered a vast amount of topics during our ten years. #OTalk has always been run by passionate, dedicated volunteers, who have either been approached or applied to join the team.
Over the years #OTalk and the team behind it have grown and developed. Branching out to attend events presenting on the use of social media safely and professionally, along with its connection and opportunities for engaging in CPD.
We began to work alongside other organisations and have also had a presence with the OT show, every year speakers from the shows programme are invited to host a number of #OTalk's in the lead up to the show.
The #OTalk team has presented, run workshops and/or had a stall as ever year the OT show has run.
This year as #OTalk turns 10 years old, we have called on the twitter community to help us celebrate, by letting us know what joining in #OTalk has been like, and opportunities it has given. During OT week 1st -7th November just after our birthday we are hosting #OTalksBirthdayGift to the community with a 4 day free CPD opportunity. The OT show will be hosting a very special #OTalk as part of our celebration this time on Thursday 4th November at 8pm, they will host a further chat in the usual time slot on Tuesday 16th November.
The best things about OTalk are:
It's free and on every week live on twitter Tuesdays 8pm
It's run by volunteers who are passionate about the profession and the importance of CPD
The weekly chat themes are suggested and hosted by the community
We have resources to help you evidence your engagement as CPD

All you need is a twitter account, free time on a Tuesday evening, and the knowledge that hashtags, in our case #OTalk is the key to finding us on twitter and joining in the chats. You can find out all the benefits and how to join in this free weekly CPD twitter chat by going to our website:
www.otalk.co.uk