23 Nov 2021
OT Show award-winning Gemini platform bath to return in 2021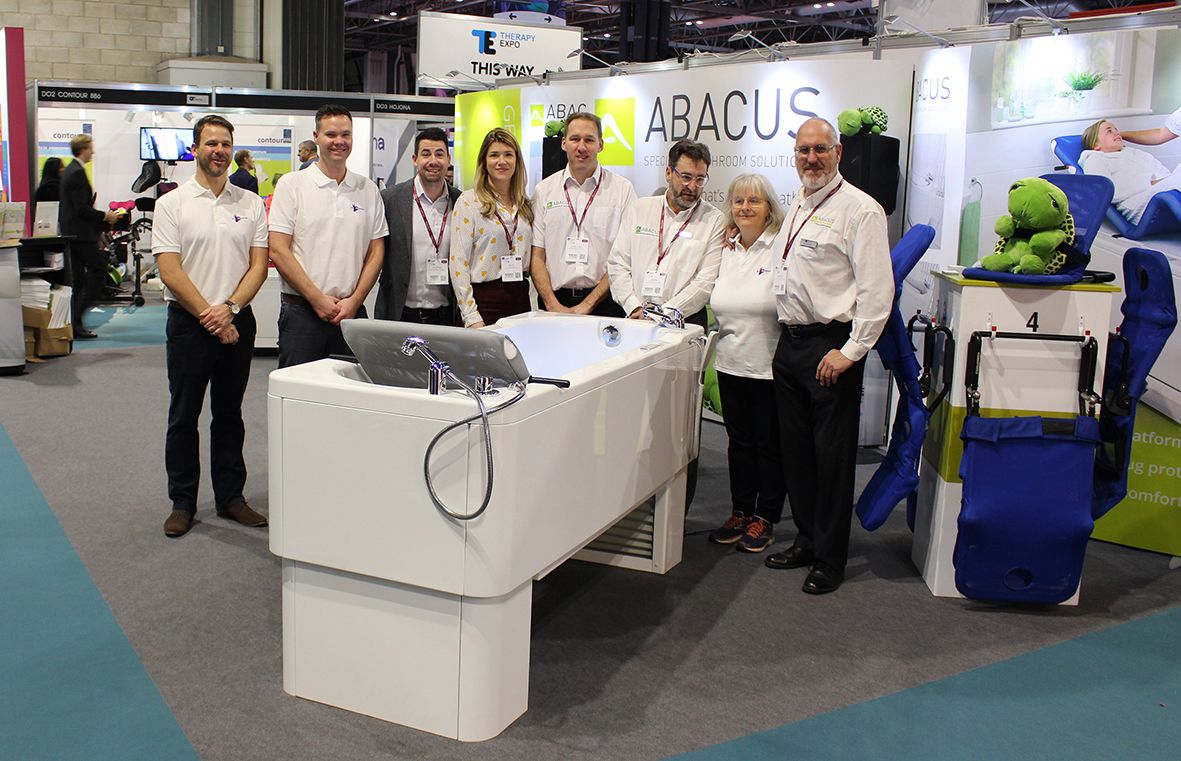 Abacus Specialist Bathroom Solutions, the leading UK manufacturer of assisted baths, will be showcasing its Gemini 2000 at the 2021 OT Show following its award-winning success at the 2019 exhibition. (OT Show, Stand C14, NEC, 24th and 25th November 2021).
The OT Show is the largest annual exhibition to provide a showcase of the latest assistive products, services and CPD education for Occupational Therapists. Abacus will once again be working with The OT Service to deliver a series of Abacus Academy on-stand CPD seminars hosted by Adam Ferry OT. Alongside this education content Abacus will be offering live demonstrations of its powered assisted baths which are proven to provide utmost safety, comfort and support for disabled bathers and carers. Examples on display will include the award-winning Gemini 2000, Aries 2000 and Scorpio bath.
The Gemini 2000 was launched at the 2019 OT Show and won the 'Excellence in Caring' Awards as voted for by a panel of independent Occupational Therapists. Since then it has become first choice for many healthcare professionals, families and disabled bathers all seeking a spacious, future-proofed specialist bathing solution.
The Gemini 2000 is a larger version of the original Gemini bath from Abacus. It offers additional bathing space so the developing needs of children, adolescents and adults can be met. It is a power assisted solution with variable height and integrated platform so carers and bathers benefit from a more positive bathing experience. Carers can support at safe working heights without the risk of back injury and awkward transfers are eliminated so changing and drying is more dignified for bathers. Manufactured in the UK by the respected Gainsborough Healthcare Group, the Gemini 2000 provides future-proofed bathing. With its 2-metre long bathing space and 165kg lifting capacity, it represents the largest and strongest platform bath on the market today.
In terms of hygiene efficiency, the Gemini 2000 encompasses world-leading BioCote antimicrobial protection. This invisible silver-ion technology provides 99.9%, 24/7 protection against bacteria, mould and viruses including MRSA, E. coli, Aspergillus niger, and H1N1. Biocote is integrated during the manufacturing process so it cannot be wiped or worn away, providing continually peace of mind for bathers.
Alongside the Gemini 2000, Abacus will be displaying the Aries 2000 and Scorpio baths. The highly spacious Aries 2000 is longer, wider and deeper than its predecessors so a larger range of children and adults can benefit from safer assisted bathing. This future-proof solution delivers long term value and the ability to sustain space-appropriate bathing for longer. Bathers are able to transfer into or out of the bath independently or by using a ceiling hoist system.
Compact yet versatile, the Scorpio 1700 and 1800 baths are height adjustable and include a powered transfer seat to assist with moving the bather in and out of the bath. There is also a cost effective fixed height 1700 version with transfer seat.
http://www.abacushealthcare.co.uk