15 Nov 2021
NEW MULTIADJUST CHAIR LAUNCH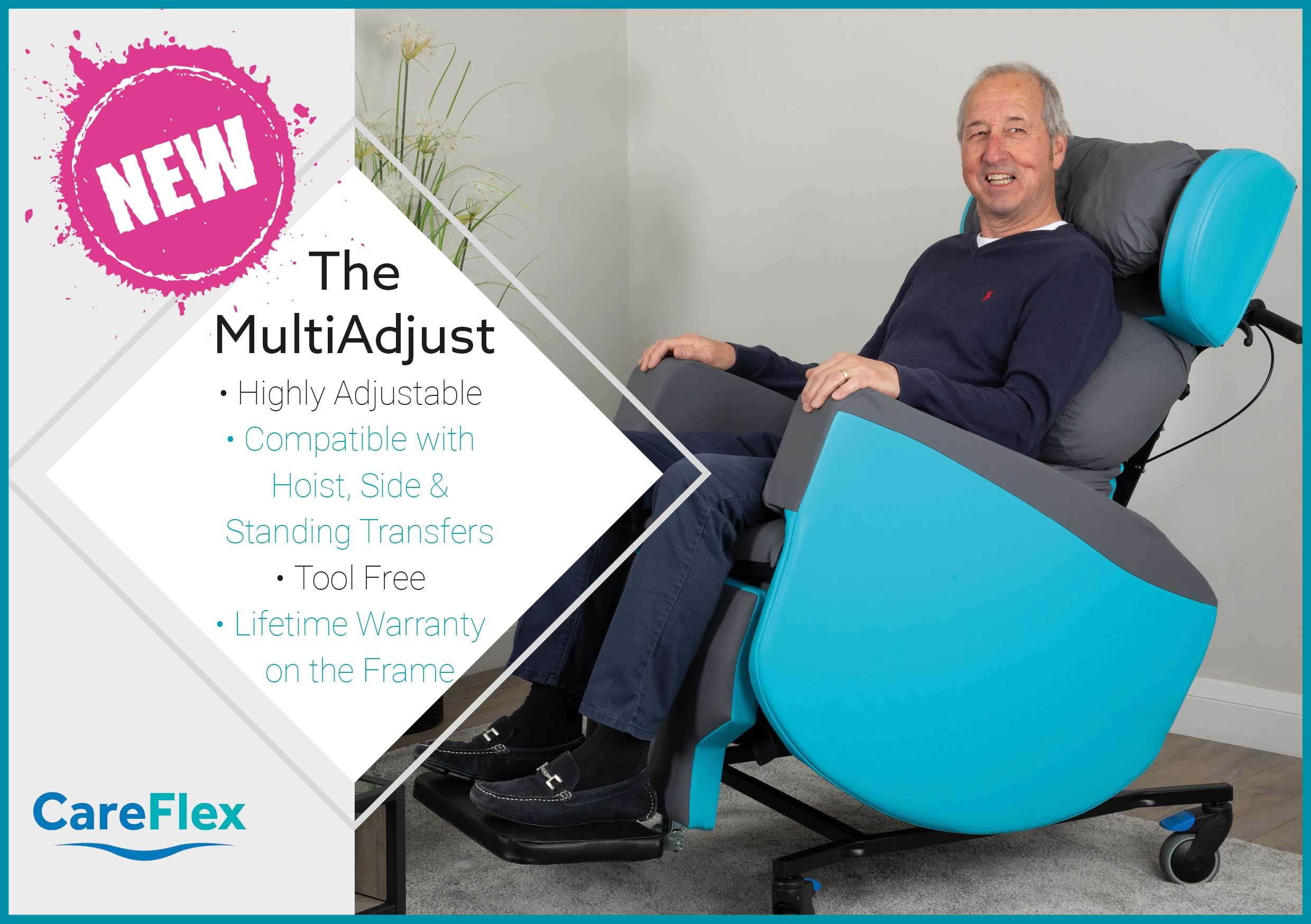 Come and See The New MultiAdjust on Stand A30
How can the MultiAdjust help individuals?
The new MultiAdjust is a cost effective, tool-free, highly adjustable seating system that provides postural support and pressure care without compromising the users comfort. The chair benefits from Tilt-in-Space, Back Angle Recline and lower limb support. The MultiAdjust is an ideal choice for multiple user environments, and for those who are semi-ambulant and non-ambulant. Its modular design, with interchangeable accessories, makes it a perfect fit for Community Loan Stores. It is suitable for a wide range of seating needs in most Care Environments.
It provides high levels of comfort and the robust construction quality that you would associate with CareFlex. For peace of mind the MultiAdjust comes with a Lifetime Frame Warranty.
Standard Features Included in the Price:
Tilt-in-Space;
Back Angle Recline;
Elevating Legrest;
Height Adjustable, Flip Up & Angle Adjustable Footplate;
Integral Seat Depth Adjustment;
Integral Seat Width Adjustment;
Integral Arm Rest Height Adjustment;
Removable Arm Rests;
Pressure Redistributing Reflexion Foam Seat Cushion;
Foam Back;
4 Braked Castors;
Ash Grey Upholstery with Black Vapour Permeable Material to Contact Areas.
We have also produced NEW MultiAdjust support documents, an Assessment Guide and a Clinical Justification booklet, two documents supporting Health Care Professionals with their seating prescription and meeting equipment criteria.
https://youtu.be/uH2eOymXCwc