16 Nov 2023
NEW Orbit 235 rotating bed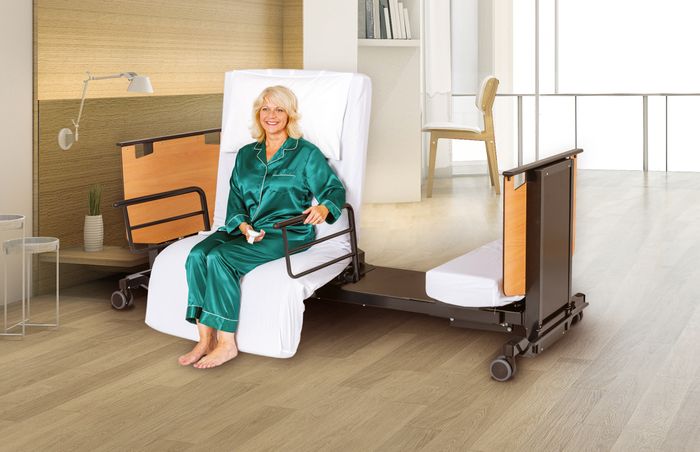 The Orbit 235 has been developed in collaboration with Occupational Therapists and end users, building on Theraposture's understanding and experience gained as the true market leading supplier of rotating beds for over 20 years. Everything that has been learnt and everything that has been asked for has resulted in the Orbit 235.
Theraposture provides a range of rotating beds including the OT Show award-winning Rotoflex. The Orbit 235 now extends this offering with a solution that be configured through personalised programming, and the modular adjustments from its clever and flexible design.
The Orbit 235 can be adapted to suit users from 4'10" to 6'6" with adjustable platform lengths of 200, 210 and 220cm and programmable seating dimensions to suit all shapes and sizes. This adaptability is truly unique and game changing. There are three mattress lengths of 200, 210 and 220cm and the seat settings allow seat heights from 40cm to 48cm and depths from 46cm to 51cm. This scope of personalisation ensures full support and comfort can be achieved.
Another innovation is the option to program a finished chair position of either 60 or 90 degrees in relation to the bed, to aid side access to a wheelchair or if space is limited in a room. The speed of rotation, angle of recline, vertical lift (or tilt if preferred) can all be pre-programmed to user preferences. The Orbit 235 has a fully integrated powered rising heel section that ensures fully supported leg elevation to assist with oedema. The Orbit 235 has a maximum patient weight of 31 stones (200kg)
As with all rotating bed from Theraposture, the Orbit 235 can provide improved occupation for clients with the following conditions:
Parkinson's
Multiple Sclerosis
Motor Neurone Disease
Progressive neurological and muscle wasting conditions
Stroke
General loss of mobility
Lymphedema
Plus size users
Balance and transfer issues
Amputees
The Orbit 235 is built using cutting-edge production techniques. It brings together precision laser cutting, robot welding and powder coating for ultimate reliability. This new level of durability is matched by its pioneering adaptability. The Orbit truly raises the bar in rotating bed design – delivering levels of tailored independence never experienced before.