07 Oct 2022
Gemini 2000 dual lift bath – larger and longer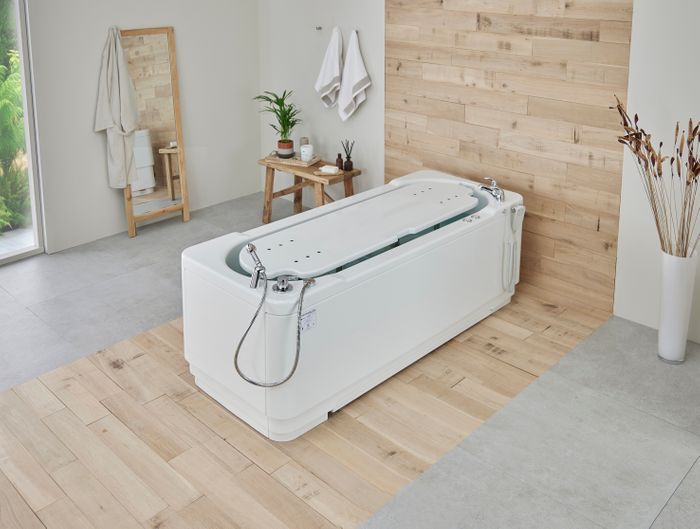 Following extensive R&D, the Gemini 2000 sets new care standards in accessible bathing. It is a unique product due to its impressive size.
To continually provide appropriate bathing space for growing users, the bath has foot and back rests that can be repositioned dependant on the required leg room. It encompasses the latest safety technology with obstruction sensors to ensure safe lowering and the platform has a locking mechanism in the upright position.
Its optional Roaming Shower System provides temperature-controlled water and a range of sensory options are available including Air spa, Chromotherapy and Bluetooth sound system.
From a healthcare point of view, the Gemini 2000 also includes BioCote antimicrobial protection which provides pioneering hygienic protection. This proven silver-ion technology is integrated during the manufacturing process so cannot be wiped or worn away – hence providing up to 99.9% 24/7 protection against microbes such as Influenza A H1N1, E.coli and MRSA. Complimenting existing cleaning regimes, BioCote(r) offers enhanced hygiene management and reduces the possibility of surface cross-contamination
Spacious, extra long bathing space for adults and larger children
Hi-lo movement with dual lift functionality so carers can assist without the risk of back injury
Adaptable bathing space with moveable foot and back dividers
Easier installation through a new modular design that can be assembled on-site
Additional lifting safety with integrated anti-entrapment sensor
BioCote 24/7 protection against bacteria for enhanced product hygiene
Sensory options available including sound, light and Air Spa