10 Nov 2022
WashPod exhibiting at the OT Show for the first time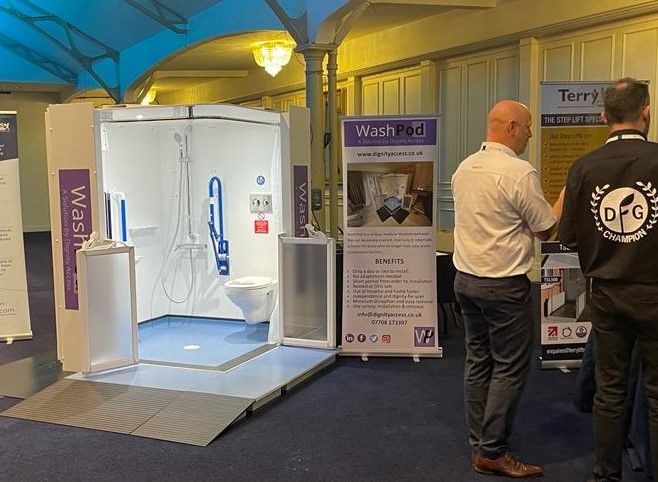 Popular Compact WashPod accessible wetroom on display for first time at OT Show
The popular Compact WashPod temporary accessible wetroom will be displayed on the Dignity Access stand (C70 next to theatre 2) at The OT Exhibition for the first time this November.

The Compact is one of 6 models in the unique WashPod range offering interim, dignified bathing when accessibility becomes an urgent need. The modular units can be hired or bought and there's even a Disabled Facilities Grant Turnaround Service available to Local Authorities to suit their particular requirements.
WashPods combine modularity with expertise in accessible design to produce a robust, high-quality versatile wetroom that they can be carried in sections through the house to inaccessible locations. They can be erected quickly in just a day or two, either internally or externally. They are plug 'n play, requiring no extensive adaptations, and can be removed as easily leaving the property untouched. No wonder OTs love the WashPod and even landlords are happy.
Installing a WashPod unit has many benefits:
Cost-effective alternative to care home or continued stay in hospital
On-site within 1– 4 weeks; installation in 1– 3 days
Minimum disruption – therefore less stress
No need to wait or pay for house adaptions or relocation
Designed by care professionals
'Plug and Play' for quick installation - water supplies and drainage do not need to be in the same room
A number of internal and external models available in various sizes to suit most spaces and disabilities
Stay at home in a safe environment in familiar surroundings
Our professional teams make sure they leave the house as they found it after the WashPod has been removed
High quality products used to avoid breakdowns
High functionality specification
100% waterproof
Low threshold entrance
Nationwide service