19 Oct 2022
University of Leicester partnership will develop new wellbeing assessment for residents without capacity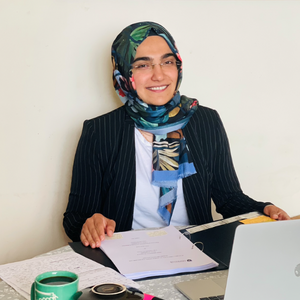 University of Leicester partnership will develop new wellbeing assessment for residents without capacity
PJ Care have partnered with the University of Leicester in a unique research project that could revolutionise the assessment and care of residents who lack capacity.
We have joined forces in a knowledge transfer partnership (KTP), a government-funded programme that brings together forward-thinking companies and academic partners, to drive innovation.
Thanks to a grant from Innovate UK, we have recruited Clinical Research Associate and Business Analyst, Zehra Turel, to work on the two-year project.
Its lead is our Director of Clinical Services and Consultant Clinical Neuropsychologist, Dr Allan Perry.
"The current models for assessing the health and wellbeing of those without capacity and who cannot readily communicate their feelings and experiences, are limited and don't take advantage of the recent advances in technology and data analysis that can give us much more detailed information," he explains.
"There is a wealth of monitoring technology that we use which allows us to collect real-time data on a number of wellbeing indicators such as a person's oxygen levels, heart rate, fluid intake and the number of steps they take to reach a certain distance.
"We believe this data can be analysed by an algorithm to provide insights into personal wellbeing, sense of agency, independence and self-determination, that are more accurate than those offered by traditional methods. We can then apply this information to tailor our care to that individual.
"While there is plenty of information on bringing more technology into the care sector and using the data being created by it, this isn't being married with the questions posed by a person's capacity as yet. We don't believe any other care provider is delivering anything like what we are proposing to."
A review of existing research into the subject has already been completed and will be published jointly by PJ Care and the University of Leicester later this year.
The next phase is to compile the data we hols into a centralised system and create algorithms that will generate a framework of wellbeing indicators for those who are non-verbal as a result of their neurological condition.
Zehra Turel holds a PhD in Cognitive Neuroscience from the University of Leicester and serves as KTP Research Associate for the project, working with Professor John Maltby and Professor Elizabeta Mukaetova-Ladinska of Leicester's Department of Neuroscience, Psychology and Behaviour. She says there is an urgent need for an accurate assessment tool for those who have difficulty communicating.
"We have so far uncovered that the available wellbeing measurements neglect or fail in understanding of the clinical populations such as cognitively impaired individuals, with or without capacity. This project will provide micro and macro insights about residents' health and wellbeing, and support decision-making at both resident and business level.
"With the increasing use of new data-driven technologies and streamlined data collection at PJ Care, this project will improve personalised care and provide more accurate and faster predictive and preventive measures, and more informed decision-making along with lowering costs and simplifying internal operations."
Dr Perry concludes;
"This KTP has the potential to develop resources that could not just be transformative for PJ Care and how our staff support people without capacity, but, eventually, for the whole care sector. We will be looking to market this if it proves to be as effective as we believe it will be."