21 Nov 2023
Stiltz to launch more versatile Trio Classic L Homelift at OT Show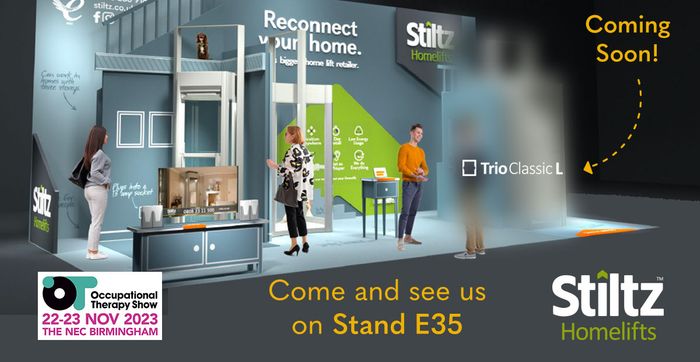 Stiltz, supported by Occupational Therapist Stuart Barrow, will unveil the new Trio Classic L Homelift alongside showcase theatre sessions and a redesigned stand at the OT Show (stand E35, NEC, 22–23 November 2023).
Presented in a brand new and eye-catching exhibition space, the Stiltz proposition for 2023 will provide the latest practical and clinical guidance for effective homelift provision. The complete range of Stiltz Homelifts for ambulant and semi-ambulant users will be demonstrated by a specialist team of experts. They will be ready to explore how and why Stiltz Homelifts are a sustainable solution which meets the wants, needs and risks of clients in a variety of scenarios.
Centre stage will be the all-new and inclusive, Trio Classic L Homelift. Offering greater accessibility and comfort for manual and powered wheelchair users, this homelift encompasses a generous platform size and specialist features which cater for diverse mobility requirements. Its future-proofing design also maintains suitability if users' needs change over time. These capabilities are particularly relevant when Occupational Therapists are assessing a client's prognosis. The Trio Classic L will be available for live trials on stand E35 and its ability to provide better client outcomes will be explained in the Stiltz Showcase Theatre sessions.
'Introducing Trio Classic L – the new versatile homelift from Stiltz'
Mike Lord, CEO; Gino Farruggio, Trade Sales Director; Stuart Barrow, Occupational Therapist
Showcase Theatre, 22 Nov, 12:00 - 12:30 and 23 Nov, 11:30 - 12:00
This multi-host presentation will highlight how the new homelift resolves challenging transfers for carers and wheelchair users with more complex needs. Stuart will discuss the advantages of the Trio Classic L from an occupational point of view, Mike will provide a holistic overview of the business, and Gino will illustrate the latest assistive technology from Stiltz which includes remote diagnostics. Continuing the client centric theme, the latest Stiltz customer video will be broadcast which clearly highlights the occupational advantages of a homelift for paediatric clients and their families.
The Trio Classic L Homelift is unlike any other domestic lift. The space, safety and strength it provides, represents a step change in access solutions. A wider, fully powered door facilitates easier ingress for larger powered wheelchairs, enhanced by near-level access. The lift car is fully enclosed for added safety and reassurance whether standing or in a wheelchair and there is the option for full or half-height doors. Once onboard, the minimal aesthetics provide a clean and fresh feel, whilst being lifted by powerful electric motors with a safe working load of 250kg.
Stuart Barrow OT concludes: "As an Occupational Therapist when working with a client and looking at their home environment there are key considerations during the assessment process. I would look at mobility and can this be enhanced or maintained. Independence in daily activities. Safety and falls prevention. Mental health, social engagement, aging in place and customisation and specific needs of the client and if applicable their family. I would then look at energy conservation, hobbies, leisure and interests at home, and how to support care givers when looking at suitable adaptations. It is great to have this new homelift to complement the existing Stiltz range as this opens up more options to facilitate identified needs at home."