04 Sep 2021
Stabilising Posture Support for Long Term Gain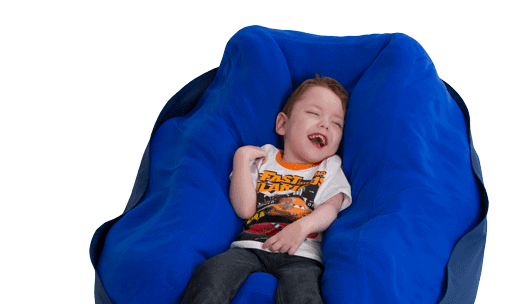 A constant problem for healthcare professionals working with clients with body asymmetry or muscle weakness is keeping the client correctly, properly supported, and comfortable, 24/7.
AAT's Stabilo Chilli Bean orthopaedic seat revolutionises the established bean seat concept. Once the user is initially comfortably positioned, a vacuum pump removes internal air to create a semi-permanent support perfectly moulded to the individual's exact, correct stabilisation requirements. Unlike alternative bean seats, Chilli Bean can be infinitely and precisely re-moulded and shaped. Client comfort can be maintained despite daily variations in need, be it a minute adjustment in shape or firmness to a total re-shape.
Importantly, the alterations can be executed in the home environment, by the care-giver(1). The client's comfort and correct support can be addressed on the spot, within minutes(2). This minimises discomfort, stress and risk of pressure point and the resultant sores. Further, it saves the costly, time-consuming process of organising remoulds inherent with alternative systems.
The Chilli Bean seat is manufactured from a specialised neoprene. The surface itself provides sensory stimulation, and the structure of the seat means it can be accessorised to provide additional sensory vibratory stimulation. The waterproof neoprene can also be wiped clean to maintain a hygienic safe environment.
"Chilli Bean is a revolution in postural support systems," says Peter Wingrave, AAT GB Director.
"Anyone who works with children and adults with physical limitations knows that what suits in terms of positioning one day may not work the next. The infinite, at home variability of Chilli Bean make an appropriate, reasonable proposition for any healthcare professional needing postural seating for clients with physical or mental disabilities."
AAT's nationwide team of sales managers are trained to support healthcare professionals in undertaking postural assessments, free of charge and with no obligation. As part of the purchase process AAT will train care-givers in appropriate adjustment of Chilli Bean. As Chilli Bean can be wiped clean, it can be taken into equipment stores if/when no longer needed, and re-issued, thereby delivering further positive amortisation and optimisation of care budgets.
Free, no obligation assessments for Chilli Bean (and AAT's complete range of daily living aids) can be booked on the company's website www.aatgb.com, or by going straight to https://www.aatgb.com/chilli-bean/.
ENDS
Subject to appropriate training by qualified personnel
pressure mapping can be undertaken if required
for further information:
Angela May, AFPR, Maes y Berllan, Babel, Llandovery SA20 0RW
e: angela@afpr.news; t 07863144184
AAT: tel 01978821875 e: sales@aatgb.com