02 Nov 2022
Sleep Unlimited's 20th Anniversary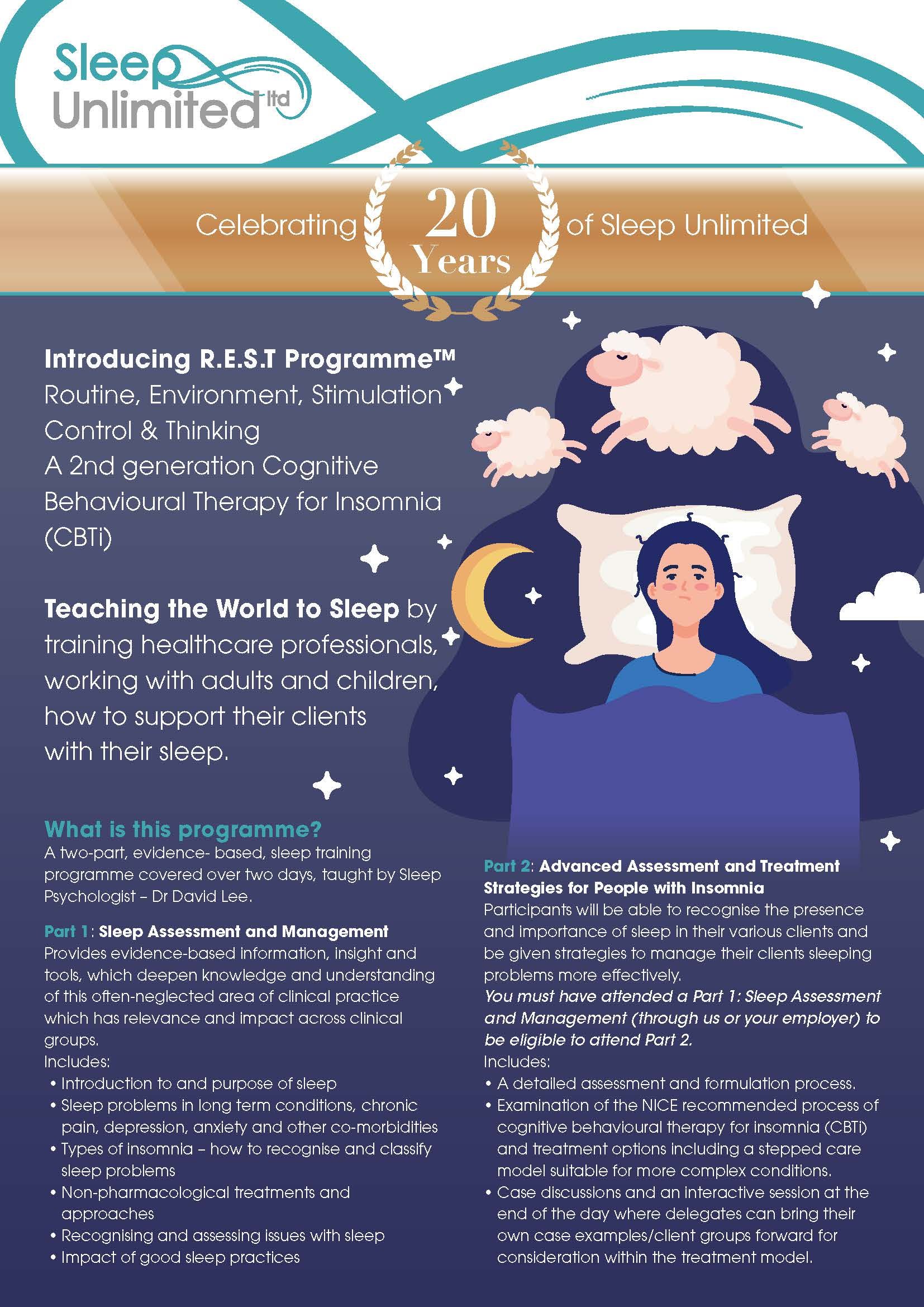 Sleep Unlimited Ltd is about to enter our 20th year of "Teaching the World to Sleep". Over the last twenty years we have supported hundreds of clients by analysing actigraphy data and providing specific recommendations for them to improve their sleep and overall quality of life. We have also trained thousands of healthcare professionals to ensure they can support their client groups with NICE approved Cognitive Behavioural Therapy for insomnia (CBTi) via our REST Programme™. During the last 6 years we have created our REST Programme™️, a two-day training programme that is suitable for all healthcare professionals and provides evidence-based information, as well as tools and strategies to enable their clients to manage their sleeping problems more effectively. This programme has attracted a wide range of Occupational Therapists as they identify that sleep has such a large impact on whether a client is able to go about their normal day, at home and at work. Feedback from previous OTs have said,
"This is one of the best courses attended because the information is so practical for me to use with patients."
Thinking of the year ahead, we are excited to announce we are delivering the REST Programme™️ via 5 online training sessions spread out across the year, and one face to face training session in Birmingham in May. Details about our courses are on our website: www.sleepunlimited.co.uk. Our courses are an excellent way to learn about CBTi and how applying our REST programme™ can have effective results. These changes can be straightforward, practical and have real world impact – and are adapted to the needs of the client, rather than a one size fits all approach. We can also provide bespoke REST Training™️ for your team.
We are introducing our "Part 3: Putting the REST Programme™ into practice" sessions, open to previous attendees. These small group sessions will enable delegates to discuss their cases and allow for open discussion on how they've used the REST Programme™ and seek out thoughts and ideas on how best to support their clients. This will provide a creative environment to allow delegates to think outside the box and apply to their clients.
We are on stand A61 for both days of the OT Show, so come and talk to us about all things sleep. Our own Dr Lee will be presenting on the 23rd November in Theatre 1 at 1:15pm on "Managing the Symptoms of Long Covid: Why Good Sleep is Critical" – where you can learn about the basic science behind sleep, why it's so important in recovery and how to help clients who are struggling after an illness.