07 Nov 2022
SEATING MATTERS TO UNVEIL CHAIR UPGRADES AND SHOWCASE THE SYDNEY GOFLAT™ AT THE OT SHOW 2022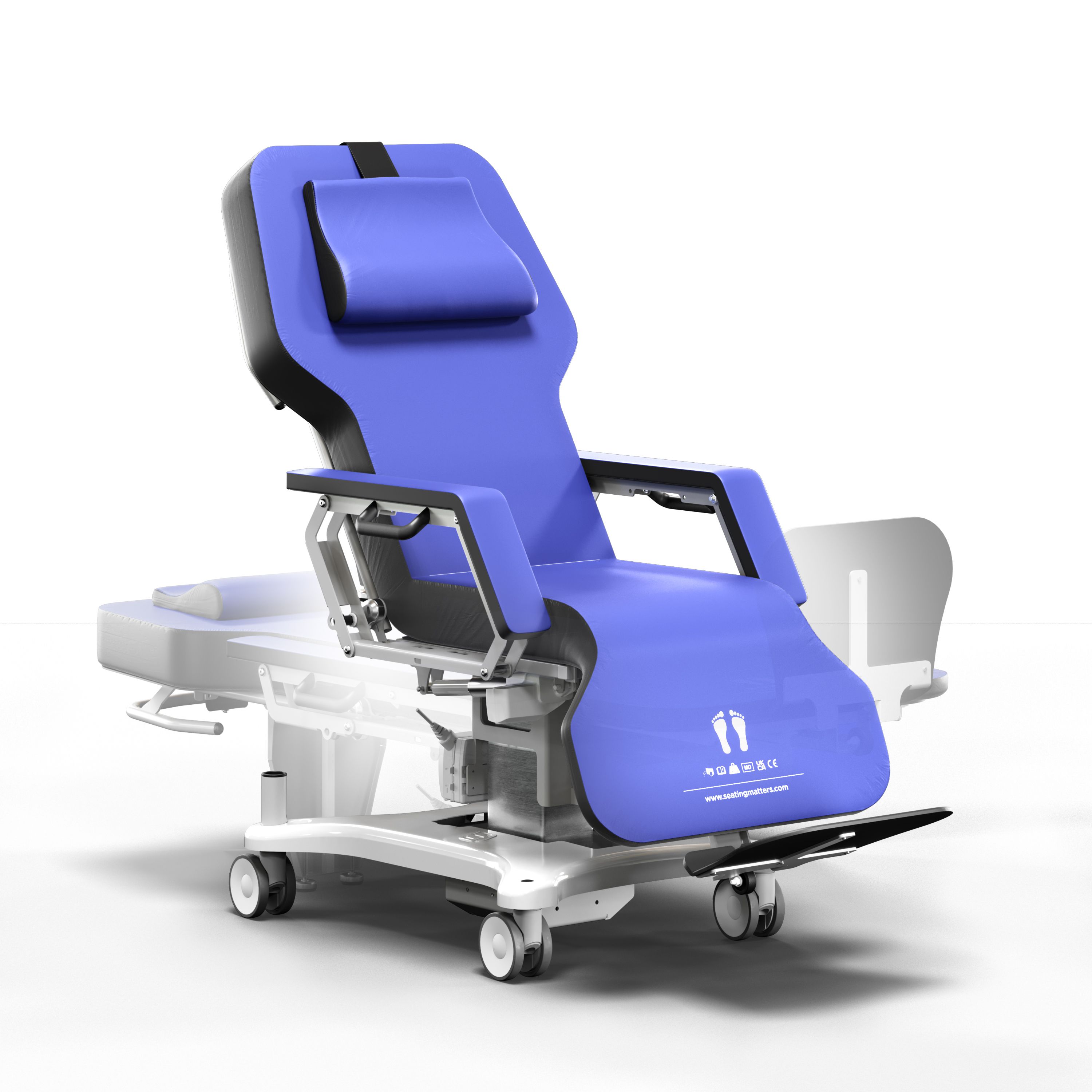 Seating Matters® is the leading brand in providing clinical therapeutic seating to hospitals, long term care facilities and families, improving many lives around the world every day.
Seating Matters has a proud history of creating life-changing chairs with the needs of both the patient and caregiver in mind. Seating Matters chairs are respected by Occupational Therapists, Physiotherapists, Nursing and Manual Handling teams around the world. Their range of chairs are well-known for providing postural support, pressure management and falls prevention. Clinicians and care-givers often say they feel sure they are giving the best care when using Seating Matters therapeutic seating.
Speaking of the upcoming OT Show exhibition, Jonathan Tierney, Director said, "The Seating Matters Phoenix™ and Sorrento™ chairs are used in long term care facilities, hospitals and home-care environments all over the world. Patients and care-givers tell us every day that the chairs we make change their lives. Hearing such powerful feedback really drives our business mantra of 'Just Ask The Patient.'"
"Continuous improvement is at the heart of everything we do at Seating Matters. This ethos has allowed us to make exciting upgrades to the Phoenix and Sorrento models which we're excited to unveil for the first time at the OT Show in November."
***
Continuing this trend for seating innovations, earlier in the year the company announced the arrival of its Sydney GoFlat™ chair. According to JB Dobbin, Head of Design, "Sydney GoFlat has been designed to enable the safe and efficient transfer of critical care patients from lying in bed to a fully seated, clinically optimised position offering care professionals new options in early patient mobilisation."
Speaking at the launch of the new model in June, Tierney said "We are very proud to launch this new addition to the Seating Matters range. The Sydney GoFlat combines the traditional Seating Matters principles of seating with the benefits of our advanced GoFlat technology allowing lateral transfers."
Director Martin Tierney stated that "Extensive research demonstrates the many benefits of getting patients out of bed as rapidly as tolerated1 and the negative impact that long term bed rest can have on muscle mass, bone mineral density and impairment in other body systems.2
Time and again we were asked for a lie flat chair, but built to the high Seating Matters clinical standard. The Sydney GoFlat was designed and refined in direct response to clinician feedback. We wanted to help advance early mobilisation, enabling patients to be discharged earlier from the ICU and ultimately from hospital.
"Feedback we have heard during the field testing phase of this exciting new chair is that in addition to the many significant physical and functional benefits there have been untold mental and emotional benefits for patients. Our very first patient was in an ICU unit in Australia and her Occupational Therapist thought the Sydney GoFlat was a game changer in her patient's treatment.
'The Sydney chair allowed this patient to engage with friends and family, spend time outside and sit in a more upright position to eat a meal. The patient commented on numerous occasions that sitting in the chair was "life changing" and "the highlight of her year so far." She loved the fact that time spent in the chair gave meaning and purpose to her day and provided a structure and routine.'"
Seating Matters invite OT Show attendees to visit them at Stand F30 during the OT Show at the NEC, Birmingham. Additionally, Martina Tierney, OT and Clinical Director, will present in Theatre 3 at 1.15pm on Wednesday 23rd and 2.15pm on Thursday 24th November.
1. EPUAP, NPIAP, PPPIA. (2019). The Prevention and Treatment of Pressure Ulcers/Injuries: Quick Reference Guide
2. Parry, Selina M.; Puthucheary, Zudin A. (2015). The impact of extended bed rest on the musculoskeletal system in the critical care environment
https://www.youtube.com/watch?v=FcchGcjGdWM