25 Oct 2021
Say hello to the Aergo PS…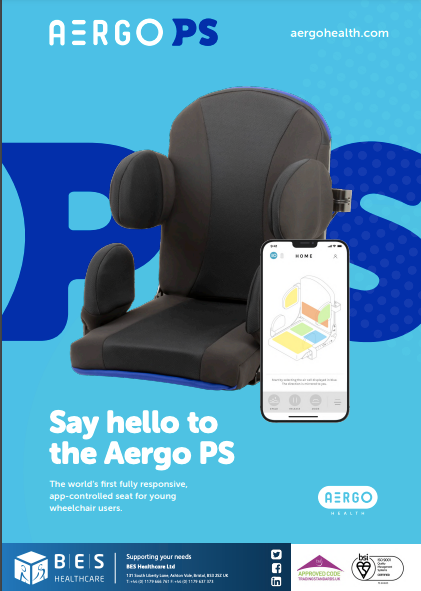 November 2021 marks the official launch of the Aergo PS, designed by Aergo Health. The world's first fully responsive, app-controlled postural management seating system designed for children and young adults.
Sheana Yu has lived experience of scoliosis, and she combined that with a passion for helping people to live life to their fullest through inclusive technology.
Sheana on founding Aergo Health and the launch of her product, Aergo PS,
'I founded Aergo Health to bring together talented designers who listen, innovate and create ground-breaking products that allow people to do more than ever before. I'm delighted that the Aergo PS will help support children who face many challenges in their lives maintain a healthy sitting position throughout the day with a limited need for hands on support from their caregivers.'
The Aergo PS postural management seating system brings together 4 key elements - air cell technology, the PS frame which interfaces with manual and powered wheelchair bases, a user app (compatible with Android and IOS) as well as a clinician web portal.
Following clinical assessment, the app is used to adjust inflation of the carefully positioned air cells to set the ideal position for each child according to their individual postural requirements. From this baseline, the app may be used by children and young people to adjust their own posture or facilitate their carers in providing 'hands off' support.
The Aergo PS provides ongoing positional information on how a child is sitting, giving therapists the ability to review seating positions over time and make adjustments as required.
As well as offering dynamic postural support, the Aergo PS represents a cost-effective and time-saving option within the NHS provision of equipment and care and will be added to the NHS Supply Chain from January 2022 with distribution via BES Healthcare Systems.
Tim Daniels, Business Commercial Lead for Aergo Health comments,
'We're very excited to join BES Healthcare's extensive product offering, and we know that the highly experienced Product Team at BES are enthusiastic about demonstrating the Aergo PS to the paediatric community therapy teams across the UK and Ireland.'
Diane Hargrove, BES Sales Director,
'At BES, we are always keeping our eye out for fresh, innovative products – the Aergo PS very much fitted the bill. It represents an exciting technological advancement in how we manage the postural seating needs of young people, grounded in research but with the features of 21st century digital health.'
Aergo Health will be joining BES Healthcare as part of its product launch of the Aergo PS and encourage you to some along to Stand G26 for a full demonstration.
https://www.youtube.com/watch?v=GxX-tMSxCv8