13 Nov 2023
ROPOX PROVIDES RISE & FALL KITCHEN SOLUTION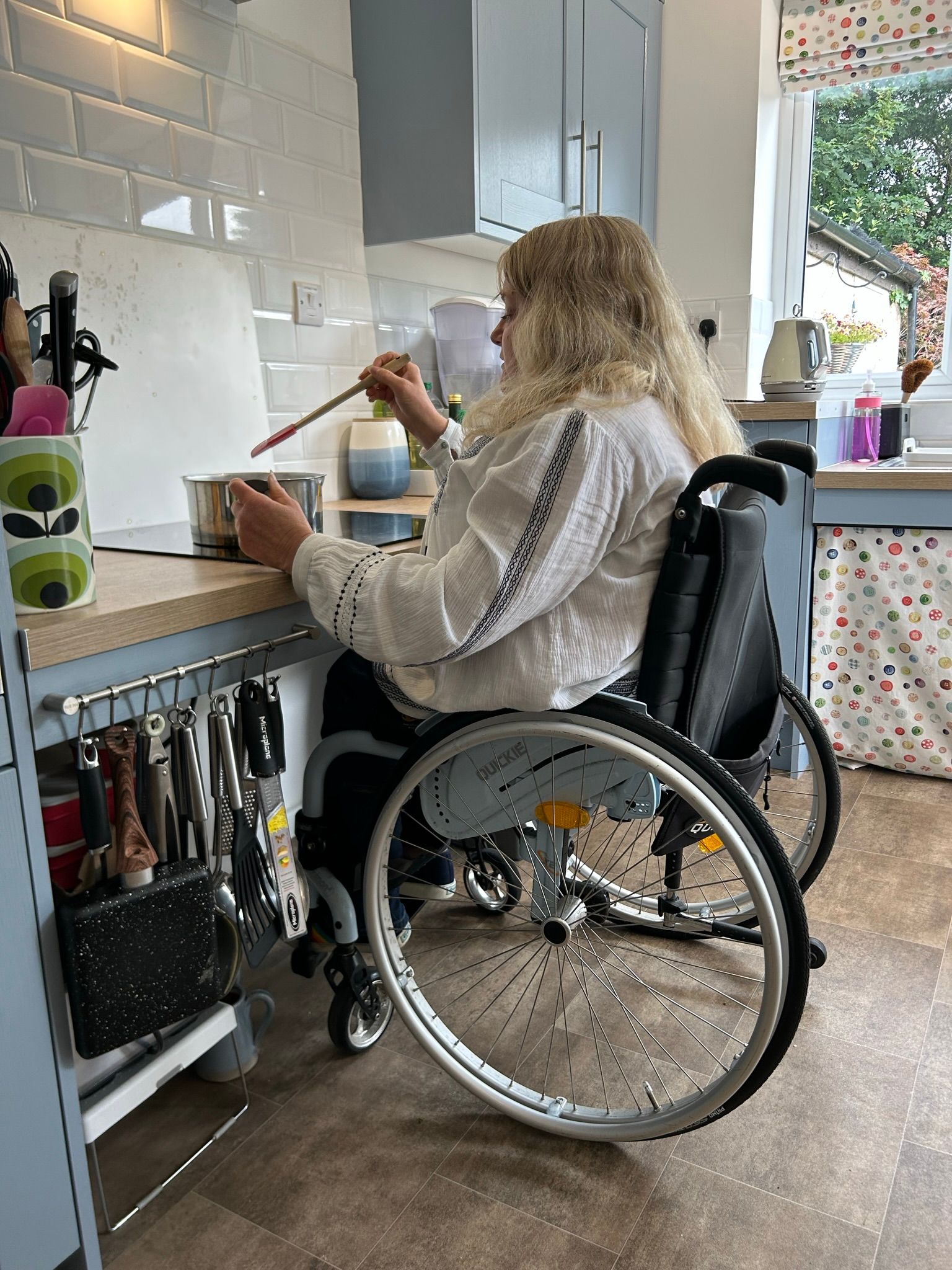 Up until 10 years ago, Vanessa Sutton from Derby used crutches to get around the house to carry out various day-to-day activities such as cooking. However, as her as her disability meant it became increasingly difficult for her to walk, Vanessa started to rely more and more on a manual wheelchair which resulted in many tasks becoming increasingly difficult for her to undertake independently and safely.
Following discussions between Vanessa's Occupational Therapist and her local council it was decided to covert her bathroom into a wet room and make her kitchen more accessible as Vanessa explains:
"To accommodate a more accessible kitchen, the existing space was extended to provide a larger kitchen area that would be wheelchair friendly and would meet my needs. Once the kitchen had been installed, the Ropox rise and fall work tops with the integrated hob and sink were the icing on the cake. I didn't even know such a thing existed, so I was delighted when the council told me about them as being able to use a hob and sink safely from my wheelchair is fantastic. I also love the fact that the kitchen looks so modern and can be used by anyone regardless of whether they are in a wheelchair or able bodied as they can adjust the work tops to their ideal height at the touch of a button".
Prior to the rise and fall work tops being installed, Vanessa would have to use a bar stool to enable her to be at the correct height to use the hob and sink, which was uncomfortable and potentially dangerous. "Trying to lift a saucepan of hot water on or off the hob while sitting on a stool was something I hated having to do but not any more thanks to Ropox. I can now use the cooker, hob and sink without having to ask anyone to help me which is wonderful" continued Vanessa.
"Here at Ropox, it is our aim to help people live as independently as possible and hearing what a difference our rise and fall worktops have made to Vanessa's daily routine is incredibly rewarding" commented Suki Ram, Area Sales Manager, Ropox.
Ropox always advises people to speak to their local council to see if they are eligible for Disabled Facilities Grant (DFG). A DFG is a means-tested grant for people with a permanent disability of any sort – including physical and learning disabilities, sensory impairments and mental illness. It will enable them to make changes to their home that will help them to continue living there, such as installing ramps and rails, stairlifts, or accessible kitchen or bathroom equipment. Another important factor to consider is whether the architect and builder have a thorough understanding of the user's needs and the range of accessible equipment that is available such as the portfolio of solutions available from Ropox.
The Ropox height adjustable rise and fall kitchen work tops have been designed to make the kitchen environment as accessible as possible for people with reduced mobility and wheelchair users. The electric version (installed in Vanessa's kitchen) enables the user to change the height of the worktop to meet their specific needs at the touch of a button and this allows wheelchair users to use the kitchen independently. The adjustable worktops from Ropox are also available with a manual mechanism and can be designed for use as a straight or corners unit depending on the design of the kitchen and available space.
"I would not hesitate in recommending people in a similar situation to me get in touch with Ropox as the difference their kitchen products have made to my life is amazing. The products are clearly very well designed and manufactured and Suki not only has a great understanding of what people need but is also incredibly friendly and easy to work with" concluded Vanessa.
For more information on the full range of accessible kitchen and bathroom equipment available from Ropox or to book an assessment e-mail ms@ropox.com or sra@ropox.com or visit www.ropox.co.uk