06 Oct 2023
REHASENSE UK LAUNCHES NEW POWER ADD-ON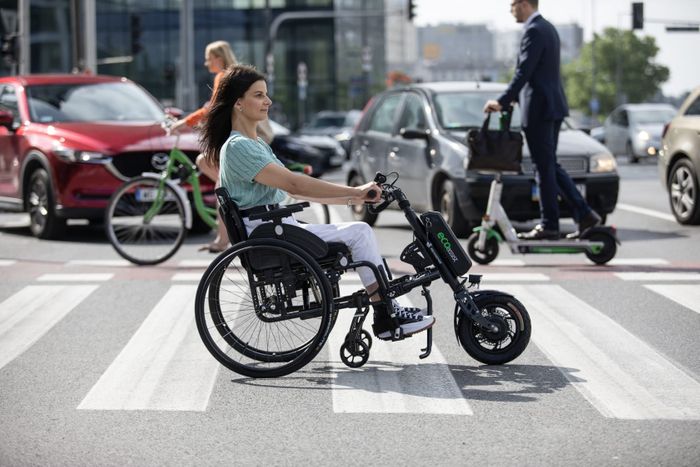 Rehasense is delighted to announce the latest addition to its growing product range - the Eco Assist power add-on
Consisting of a high strength aluminum chassis, a 350-watt motor and 48-volt battery, the Eco Assist offers a very cost-effective solution for wheelchair users looking for an entry level power add-on to increase their independence.
Weighing 15.5kg with the battery and just 9.4kg without, the Eco Assist is easy to transport and manually clamps onto the frame of the wheelchair and disconnects with ease in one simple movement. To ensure protection against the elements, all surfaces on the Eco Assist are powder coated and anodized.
Available in a stylish black finish, the Eco Assist has a maximum speed of 15 kph and can be charged from empty to full in 5 hours. The twist throttle control, central LED display on/off button and three speed modes are all housed within the handlebars while standard features include cruise control, anti-slip traction control, LED headlight and horn.
Thanks to the Eco Assist, days out with family or friends which might have previously been a challenge in a manual wheelchair can be planned with confidence as the Eco-Assist is extremely easy to manoeuvre and is ideal for use in urban areas such as the high streets or shopping centre.
"Here at Rehasense UK we are always looking to add new products to our portfolio, and we believe the Eco Assist will be a perfect addition to our range of mobility solutions and prove to be very popular with our UK dealers" commented Jordan Day, UK Sales Manager, Rehasense UK.
For more information on the Eco Assist or to discuss potential retailer opportunities, call 0333 220 0704 email ukadmin@rehasense.com or visit www.rehasense.co.uk
https://www.youtube.com/watch?v=QrYm2S9Tnas