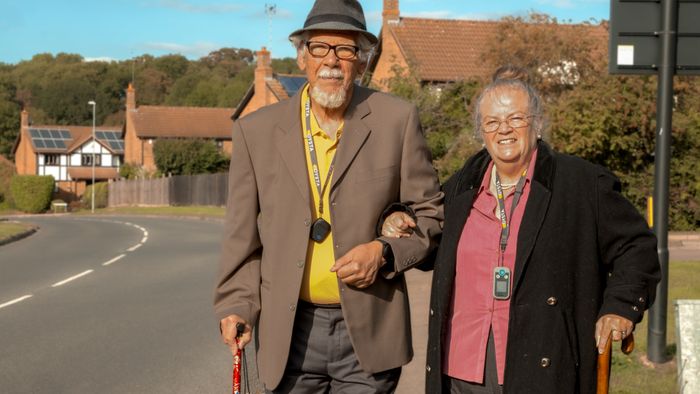 Introducing Oysta – Promoting independence with technology enabled care
We are delighted to formally announce that Oysta is attending the upcoming Occupational Therapy (OT) Show. We cannot wait to share our latest innovations and our plans for the future with all the attendees to demonstrate how technology can help promote independence, delay future care needs, and improve quality of life.
This month we will be sharing with you who we are and what our missions are, in order to enhance your service, get the best outcomes possible, and allow Vulnerable Independent People (VIPs) to live safer and more independently for longer using our Oysta solutions.
Who are Oysta?
Oysta is a technology enabled care company that offers digital care solutions to bridge the gap between health and social care to help people live safer and more independently for longer.
Oysta know that independent people want to remain living in their own homes with support on hand if they need it. One of our biggest aims at Oysta is to create solutions that are designed to create packages that promote independence and activity through digital insights to deliver more personalised and preventative care both inside and outside the home.
With over 60 settings across all our Oysta solutions, we help to provide a bespoke service to support the specific needs of each individual so occupational therapists and other social care professionals can plan and deliver more preventative care that matters to the individual.
Too often providers, carers, and social care professionals have had to react to events as they happen. The problem with delivering a more reactive care model is that often at this point both the individual and their carer are near the point of crisis, where interventions tend to be more limited offering less choice and control for the individual.
We want to change this experience at Oysta by helping Vulnerable Independent people live more independently and confidently by using our range of Oysta solutions.
Our innovative solutions integrate with all Alarm Receiving Centres (ARCs) to send alerts to professional carers, and the care circle via our IntelliCare platform to deliver more personalised and preventative care.
How does Oysta work?
Vulnerable Independent People (VIPs) want to remain living in their own homes for as long as possible. At Oysta our main driving purpose is to help people remain living independently and safely in their own homes with support on hand if they need it. We created digital care devices that have a high user acceptance and are proven to help VIP's live in their own homes for longer.
Our care intelligence platform, IntelliCare, supports a wide range of digital devices, wearables, and home sensors. Being both digital and mobile, our technology is not dependent on any landline or Wi-Fi, instead, it offers a cloak of care that goes everywhere with the individual. Care data is used to provide valuable insights to deliver better preventative care both inside and outside the home.
Both regular and automatic updates are sent about activity and locations to the care circle of VIPs to identify trends and unusual patterns of activity to prevent any critical events from taking place. Here we can transform the reactive care model into an efficient, personalised, and preventative one instead.
What is important to note about our technology, is that it is all fully ready and integrated for the digital switchover so all our devices can be instantly linked for any type of use and will not cause any disruption when the analogue to digital telecare transition takes place.
What are the benefits of Oysta?
Oysta knows the challenges that hospital and social care teams face when getting medically fit patients home from the hospital. Staff shortages and ties to arrange care packages lead to hospital discharge delays. Oysta knows that people would prefer to recover from illness or injury in the comfort of their own homes, however, due to challenges in providing social care support these patients cannot be discharged.
Our Oysta digital care solutions have helped many councils improve their hospital discharge process. For example, Camden Council were able to discharge patients needing at-home support up to three days sooner. This reduced pressure on the NHS and saved them an estimated 630 bed days, equating to over £252,000 in savings, which would have otherwise been occupied waiting for social care assessments rather than hospital treatments.
Equally, our Oysta solutions allow individuals living with dementia to live more independently for longer knowing support is there when they need it. Hampshire County Council, for example, found that the local police force found there was a 55% reduction in people reported missing to the police since individuals with dementia were given an Oysta device.
The future of Oysta
Oysta has already started to join up the care circle by connecting families, friends, social care professionals, and the individuals themselves through our Oysta solutions. Multiple notifications and alerts can be sent out across different individuals when there has been an anomaly in a VIP's home environment or activity before something more critical takes place.
What makes the future of Oysta even more exciting, and one of the main reasons we want to attend the OT Show, is to offer a glimpse of the exciting developments that are on the horizon.
All attendees will see demonstrations of our products, including our latest product launch, as well as talk about recently joining The Access Group, and what that means for the future to accelerate change to the care provision and deliver better personalised and preventative care.
If you would like to learn more please visit our Oysta stand at The OT Show at the NEC, Birmingham, on the 22nd and 23rd November 2023.
For more information prior to the OT Show, discover our Oysta solutions today, and feel free to get in touch.
We cannot wait to meet you and share our latest innovations and plans moving forward now we are part of The Access Group so that we can continue improving quality of life through our range of telecare devices.