24 Oct 2023
MOTORSTEP: Enabling people to participate in daily life within their own homes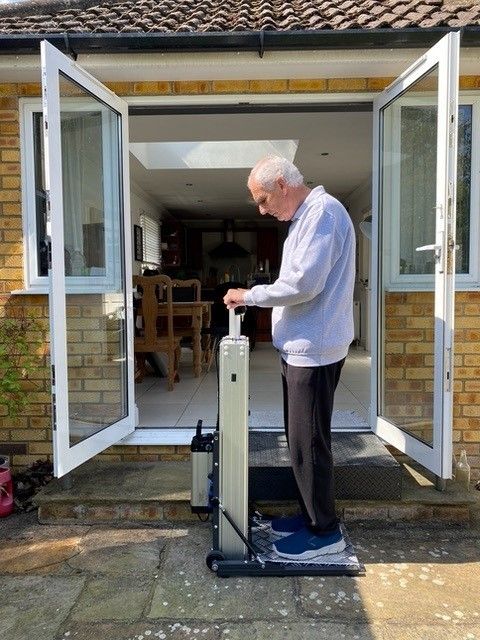 Enabling people with disabilities and reduced mobility to live safely and happily in their own home for longer is why a UK-based, family business designed Motorstep to overcome steps inside and outside of the home. Motorstep allows freedom of movement and is the ideal equipment to promote self management and improve wellbeing.
"We established Motorstep in 2013 after personal experience showed us the restrictions faced by those with disabilities. We realised that a mobile, step-on lift could ensure independence for longer, as well as encouraging an active lifestyle. We work closely with OT professionals and local authorities, as well as independent customers, to find the perfect solution to give them freedom and confidence."
Motorstep, a motorised step, is robust, easy-to-use, weatherproof, and completely freestanding. It comes in 3 models, is powered by battery or mains power, and is set up in minutes. With no expensive installation or building works such as ramps, this is a cost effective, practical way to enable people to maintain an active lifestyle, enjoy holidays, and boost their enjoyment of life.
Take our client, Mrs H.
- Steps between her living area and kitchen were a barrier due to her age and failing mobility. She'd lost her independence and was reliant on the local authority and her family.
- The recommended wheelchair lift was costly, would take six months to install, and would impact on the space in her small home.
- Working with her OT, Motorstep was delivered and plugged in. Our customer effortlessly and safely accessed her kitchen within minutes. She is living happily in her own home, enjoying her
independence and reduced dependence on the LA and her family. It has also saved her, and the Local Authority, thousands of pounds in installation and ongoing support costs.
Please come and visit the team at stand B12 for a personal demonstration of Motorstep.
We really look forward to meeting you.