12 Oct 2022
OT Mike gives meaning and motivation to residents' lives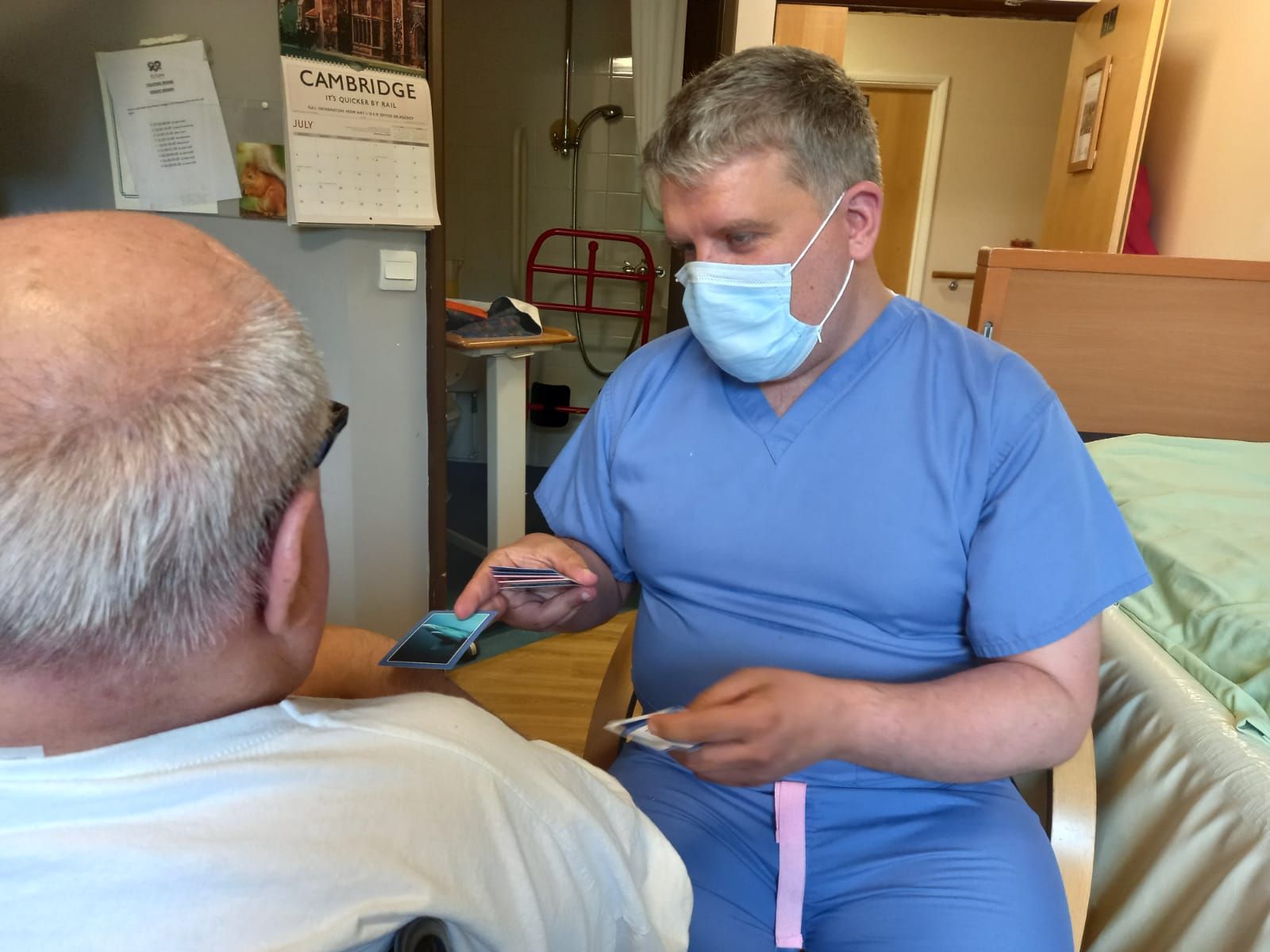 Mike gives motivation and meaning to residents' lives
Mike Turney, an occupational therapist here at PJ Care, starts his day by meeting with his colleagues in our multi-disciplinary therapy team.
It's his job to create therapeutic activities to give residents at our three care centres the best quality of life. As well as information from our physiotherapist, clinical neuro-psychologist, speech therapist and others, input into what could improve a resident's daily life could come from a member of the housekeeping team, a senior nurse or a member of the board.
"We're a family-run business," says Mike. "Everyone knows the residents and notices things about them that can be hugely important in improving their wellbeing."
Mike started work with us in 2020 as a newly qualified OT. He brought with him a wealth of experience, having worked for several years as a healthcare assistant in homes caring for people with spinal injuries, dementia and challenging behaviours.
Mike creates a framework of activities for each resident which is then carried out by our therapy technicians. Everything is person-centred which means it's tailored to the resident's physical and emotional needs, and their likes and interests.
'John' hadn't been out of bed for three years when he came to PJ Care. He'd developed Guillian Barre syndrome which attacks the nerves and causes weakness and pain. He'd lost ability but also motivation.
"'John' had always worked on farms so getting him outside was our aim," remembers Mike. "The first stage was to get him out of bed. We got him a bespoke wheelchair system and the therapy technicians and I got him walking with support.
"He can now walk unaided and he's an avid member of our gardening club. We've reignited his motivation. He smiles now! As well as improving his quality of life, we've transformed things for his family, too."
Mike manages his own time. Most of his day is spent on the units with the residents, having one-to-one sessions or overseeing a group session. Having an in-house therapy team means he can do joint sessions with the physiotherapist, for example, and develop a holistic care plan.
Late afternoons are usually reserved for paperwork, including filling in a communication diary to keep colleagues informed of any changes or new equipment that he's arranged.
"The best thing about my role is seeing the transformation in residents, however small," says Mike. "People often come to us after five or six failed placements because other homes don't have the time or skills to meet their needs.
"What's great about PJ Care is that we can put ideas into practice quickly because there's no bureaucracy. All of our work is carried out within safety guidelines and then if we think it'll work, we're given the scope to try it. If you're motivated, the sky's the limit!"