06 Nov 2022
At last a fully electric premium MPV Mercedes-Benz wheelchair accessible vehicle.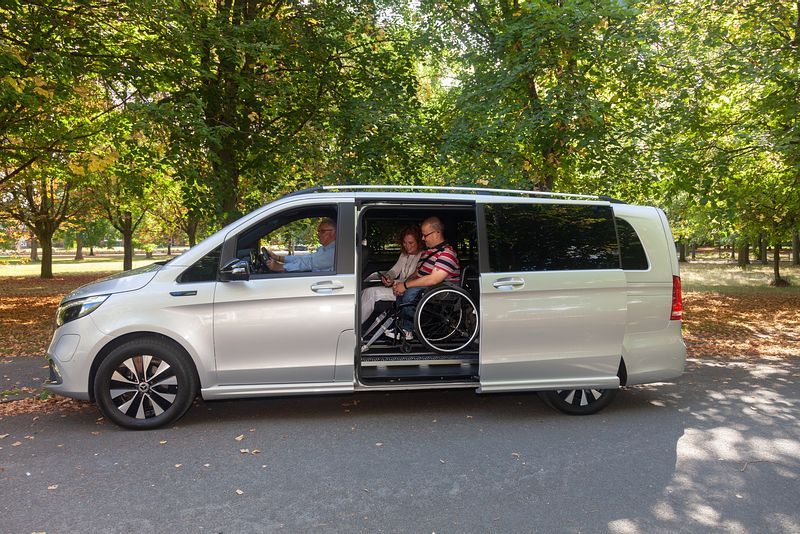 The first fully electric WAV on the Motability scheme
Lewis Reed have launched the very first electric version of the popular Mercedes-Benz V-Class – the EQV.
And what a car! There are so few options for larger families to go green these days, especially if needing a WAV, yet this ticks all the boxes. Its exactly what you'd hope.
The EQV's emphasis is on luxury and versatility. It brings extravagant levels of sophistication, intelligent systems and technology making your driving experience comfortable whilst helping to keep you safe and benefiting the environment.
Every vehicle supplied by Lewis Reed is bespoke and customised to ensure it meets the requirements of the individual which can vary incredibly from one user to the next. This car can do all this as well as being kind the environment and to your pocket.
Available in three models; the Sport, Sport Premium and Sport Premium Plus, in full electric mode, this car produces zero tailpipe emissions, dramatically lowering smog and greenhouse gas emissions.
Although you can hardly hear a sound from the drive system, you'll be impressed by how effortlessly the 204 hp (150 kW) electric motor accelerates. When it comes to charging options, Mercedes me charge is standard for three years with the EQV.
The battery is under the floor allowing for all that welcomed extra space everyone always needs.
The EQV comes with a comprehensive range of control options and flexible seating positions to offer practical solutions for the wheelchair user and their carer or family. The adaptable floor mounted rail system is quick and easy to use providing a choice of up to 5 passenger seating and 2 wheelchair positions. Wheelchair access is at the rear using the sophisticated Fiorella Twister lift allowing a swivel base to rotate the lift by 90 degrees allowing quick and easy access to loading and tie-down operations with maximum safety and comfort.
Once again Lewis Reed has successfully developed a new and unique product for the WAV market and more importantly given more choice for the wheelchair user.