25 Sep 2023
Joerns Healthcare Ups the Anti With Next Generation Stand Assist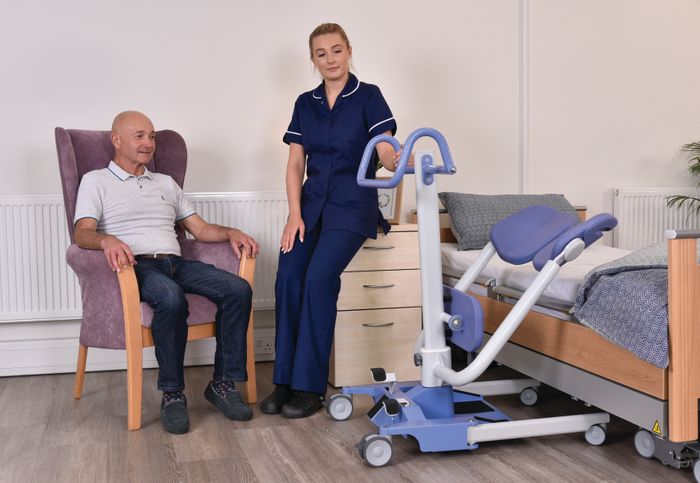 Joerns Healthcare's new Oxford Up is a uniquely designed active manual stand aid, supporting assisted standing, seated transfers, and patient rehabilitation. Previewed at the Moving and Handling People Conference and OT Show in the latter half of 2022, it commanded a lot of interest and positive review from those who matter.
The Up will form part of the Oxford Professional series, complimenting the already established Switch, Journey and Ascend stand assist solutions. Suitable for clients who require some assistance when standing but are able to participate and contribute effort to the process, the Up can also be deployed as a useful rehabilitation aid.
Manufactured using a combination of steel and aluminium framework, the Oxford Up meets or exceeds all applicable design and regulatory standards and unlike other stand assist products, it quickly and conveniently dismantles into three separate components. This significantly eases storage requirements and facilitates onward transportation in the boot of a car. Reassembly takes a matter of seconds, and the Up is ready for use again.
Owing to its unique and robust design, the Up successfully achieves a safe working load rating of 200kg (31st). Careful attention to component geometry, including the single upright mast section, allows for a fully contained footplate, ensuring patients have no risk of toes overhanging the edge and potential conflict with the rear castors or foot opening pedals.
Injury reduction, fall prevention and ergonomic principles were fundamental considerations during the development phase. A large multi-point push handle aids manoeuvrability for the care giver, and the foot push pad, a common feature on Oxford Professional series products, provides a means of generating forward momentum when moving a patient. Optimum positioning of the swing-away moulded seat pads and knee support help ensure comfort for the patient. Adjustable leg opening allows closer access around furniture, promoting improved patient positioning and general ease of use.
High-grade castors offer excellent manoeuvrability across many floor surfaces and ensures a smooth and comfortable transfer for both the patient and carer. The centralised, singular upright mast when compared to comparative products with dual seat posts, results in softer transitions over room thresholds and different floor types. It effectively serves to dampen the vibration felt through the seat pads, culminating in more comfortable and less disconcerting transfers for patients.
Where additional seated support is required, the Oxford Deluxe Standing sling (With Clips) is fully compatible with the Up and available in three standard sizes: small, medium, and large.
The Oxford Up is available to order now. For more information, please contact Joerns Healthcare on 0344 811 1158, send an email to info@joerns.co.uk or visit our website at www.joerns.co.uk.