31 Oct 2023
Introducing the Specialist Seating "Resources Centre" for OT's & Healthcare Professionals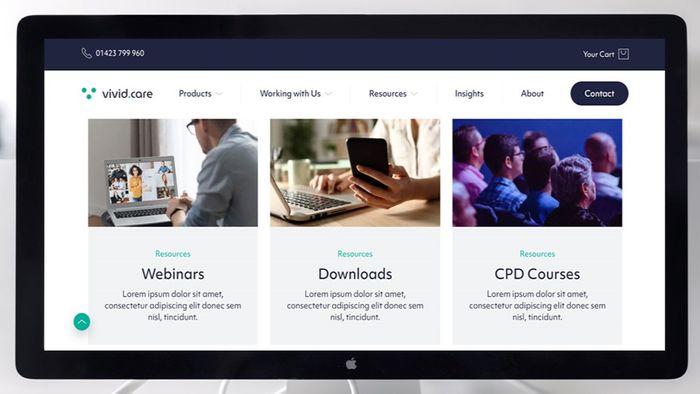 Introducing a Valuable Resource Hub for Occupational Therapists
Vivid Care, a leading and long-standing provider of specialist care seating and equipment for patients in hospitals, care homes/nursing homes, and home settings, is proud to present a comprehensive online "Resources Centre". This platform has been designed to support occupational therapists (OTs) and healthcare professionals in their critical role of enhancing the well-being of patients, through educational content, videos and events.
In a field where the right information can make all the difference, Vivid Care is committed to providing the tools and knowledge that OTs need to excel in their practice.
The online Resources Centre offers a diverse array of valuable resources, including:
1. Educational Webinars: Access to monthly educational webinars featuring professional healthcare speakers, trusted industry partners, educators, and charities. These webinars provide a platform for sharing insights, discussing best practices, and staying up-to-date with the latest advancements in the field. Furthermore, recordings of previous webinars ensure that busy professionals can catch up at their convenience.
2. Continuing Professional Development (CPD) Courses: Our platform offers access to CPD courses specifically tailored to seating assessments and techniques for different patient needs. These courses are an invaluable resource for OTs looking to expand their skill set and ensure they are providing the best care possible.
3. Downloadable Resources: OTs can access a wealth of downloadable materials, including seating e-books, justification templates to aid in securing funding approval for our products, informative guides, training videos, brochures, and much more. These resources are designed to streamline the decision-making process, making it easier for OTs to select the right solutions for their patients.
4. Educational Insights Articles (Blog): the Resources platform features an extensive collection of educational insight articles. Occupational therapists can browse through a large bank of educational, training, and news articles, encompassing both acute and community care. These articles offer valuable insights, expert opinions, and the latest developments in the field, serving as an indispensable source of information to keep OTs well-informed and up-to-date with the ever-evolving landscape of patient care.
As advocates for the well-being and comfort of patients, Vivid Care understands the crucial role played by occupational therapists in selecting the right care seating and equipment. The Resources Centre underscores the company's commitment to supporting OTs and ensuring they have the resources and knowledge they need to deliver exceptional care.
"We believe that by providing comprehensive resources and fostering ongoing education, we can contribute to the growth and development of occupational therapists in the field of patient care," said Tristan Hulbert, Managing Director at Vivid Care.
"Our aim is to make their work easier, more effective, and ultimately, to improve the lives of the patients they serve."
To explore the Resources Centre and gain access to these valuable tools and resources, please visit https://www.vivid.care/our-resources/