30 Oct 2023
FreshWipes to Debut Innovative Waterless Solutions at the Occupational Therapy Show 2023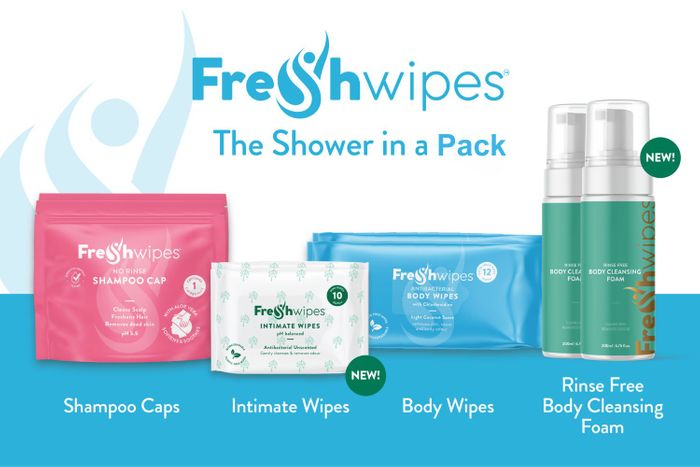 You can find FreshWipes at Stand K36 at the Occupational Therapy Show.
The company's presence at this prestigious event is a significant milestone in their mission to make personal hygiene simple, especially for individuals facing challenges with traditional bathing and showering.
FreshWipes specialises in designing products that address the needs of people who may find it difficult or impossible to bathe or shower after medical procedures, illness, or due to disabilities. Their range of antibacterial and biodegradable full body wipes are available in a variety of delightful scents, including coconut, unscented, and invigorating grapefruit. In addition to these full-body wipes, FreshWipes offers shampoo caps for waterless hair cleansing, intimate wipes specially designed for personal hygiene, and a rinse-free foaming body cleanser, providing a hassle-free and effective bathing alternative.
Liz Barnes, Founder and Managing Director of FreshWipes, expressed her enthusiasm about the company's Occupational Therapy Show debut: "We are thrilled to showcase our range of waterless personal hygiene solutions at this event. FreshWipes has a profound commitment to improving the lives of individuals who face challenges with traditional hygiene routines. We believe our products offer a revolutionary solution for those who need it most."
FreshWipes aims to enhance its visibility among occupational therapists attending the show, with the goal of having them recommend FreshWipes products to their patients. With a focus on patient well-being and comfort, FreshWipes is determined to make a meaningful impact within the occupational therapy community.
For further information about FreshWipes and their waterless personal hygiene solutions, please contact:
FreshWipes Telephone: 01323 337000 Email: sales@freshwipes.co.uk Website: www.freshwipes.co.uk
https://youtube.com/shorts/jLD4yzbSauU