15 Nov 2023
DASH REHAB TO UNVEIL NEW SMART POWERED WHEELCHAIR AT OCCUPATIONAL THERAPY SHOW 2023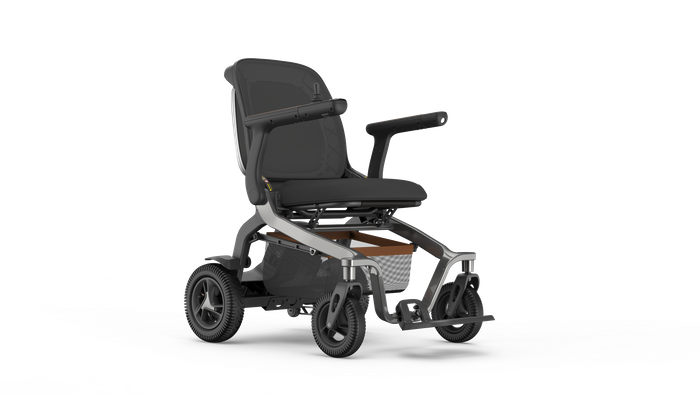 Mobility equipment supplier Dash Rehab will be unveiling the new Robooter E40 on stand D33 at the Occupational Therapy Show on 22-23rd November at the NEC, Birmingham
Mobility equipment supplier Dash Rehab will be unveiling the new Robooter E40 on stand D33 at the Occupational Therapy Show on 22-23rd November at the NEC, Birmingham.
The E40 is a 4mph manual-fold powered aluminium wheelchair which can be controlled with a smart phone and comes with added features built into the chair. These include the ability to change the voice on the chair and cruise control.
A 'fault find' feature highlights if there is an issue with the chair and the end-user can receive handy updates via an app.
Built-in Bluetooth technology also turns a smart phone into an attendant control. The E40 can be 'sent away' or up a ramp into a car, for example.
Navigation is made easier with lighting to the front and rear of the chair.
Brent McIvor, sales and marketing director at Dash Rehab, commented:
"We are very proud to be showcasing the new Robooter E40 at this year's OT Show. Visitors to the stand can learn more about the chair's progressive design and technology and get up close to appreciate the ergonomics. It will certainly appeal to increasingly tech-savvy end users. Our team of technical and sales advisors will be on-hand throughout the show to guide visitors through the features and benefits of this new powered chair."
Contemporary colours
The E40 features a streamlined design. Its classic curves and contours are enhanced by a range of contemporary colours – choose from modern grey, ink lake green, and graphite black. The main frame is powder coated for a superior and long-lasting smooth finish.
Comfortable for longer
Ergonomically the E40 creates an immersive seating experience. The backrest is integrated with the ergonomic seat. The backrest mesh fits the body curve better providing support for the lumbar spine and helping muscles stay more relaxed when sitting for a long time. Luxe leather on the armrests adds to the user experience.
Engineered for ease.
The E40 has a travelling distance of 16 miles powered by a 20amp lithium battery.
It is easily transported due to its weight and compact size, the overall lifting weight is 21kg, excluding battery, with a maximum user weight of 150kg. The powered chair can be folded at the touch of a button.
With rear pneumatic tyres and honeycomb front castors the E40 is designed for everyday terrain. It can also be used on a bus or train, unlike a powered scooter.
Exclusive to Dash Rehab
The Robooter E40 and X40 are exclusive to Dash Rehab in the UK and Ireland. Both models will be demonstrated on stand D33 at the OT Show.