14 Oct 2022
Build a better career as an OT in Australia with Better Rehab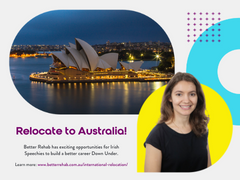 Better Rehab, Australia's fastest-growing Allied Health provider, is thrilled to be at the Occupational Therapy Show (Stand 9 H51)
A little piece of Australia is coming to the NEC Birmingham. For the duration of the Occupational Therapy Show (23-24 November), Stand 9 H51 is officially true-blue, fair-dinkum Aussie!
Thanks to Australia's National Disability Insurance Scheme (NDIS), there is a high demand for OTs in the land down under. And Better Rehab, Australia's fastest-growing Allied Health provider, provides the relocation support, ongoing training, mentoring, career development opportunities and incredible culture to help passionate occupational therapists from the UK thrive in the home of the world's best beaches, the world's best coffee and… the Hemsworths!
Better Rehab is a company where people go to excel, to develop innovative solutions, to go the extra mile for patients and to push the boundaries to deliver the highest-quality care – and where everyone is given everything they need to do that.
"I'm really proud of our focus on clinical quality and our support to OT clinicians," says Elaine Lee, National Clinical Lead, Occupational Therapy. "We'll support you to develop and grow, and to absolutely LOVE being an Occupational Therapist."
Founded in 2017 to provide better OT services to people with a disability, Better Rehab has now helped make life better for over 18,000 people. Today, our multidisciplinary team comprises 500 superstar clinicians (many from the UK) providing Occupational Therapy, Speech Pathology, Physiotherapy, Exercise Physiology, and Positive Behaviour Support services.
A Values-driven company, everyone at Better Rehab loves what they do, gives a damn, gets sh*t done and are people people. There are two company goals: to deliver better outcomes for participants; and to be a better place to work.
Better Rehabbers get to:
Be among like-minded people, dedicated to delivering outstanding participant outcomes
Share ideas and know they will be listened to
Explore multiple areas within OT
Enjoy flexible work options
Learn and grow, with PD opportunities that include paid study leave
Make lifelong friends
Have fun!
The Better Rehab team is at Stand 9 H51 to share more about the company and the specific relocation support on offer.