05 Oct 2021
Abacus to present 'express' on-stand bathing CPD education at Occupational Therapy Show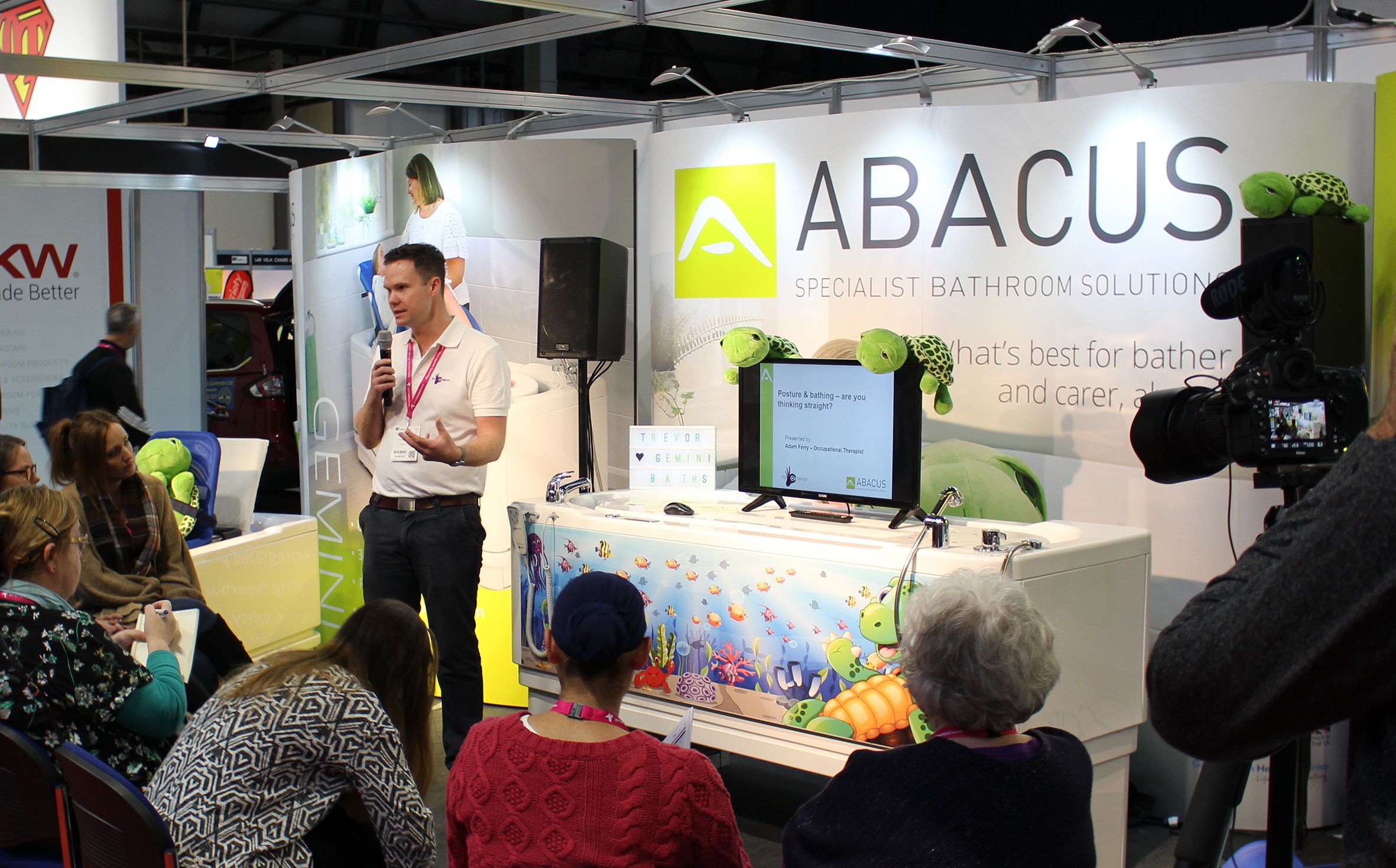 Adam Ferry, Occupational Therapist, will be presenting a series of 'express' CPD seminars exploring assisted bathing on the Abacus Specialist Bathroom Solutions stand at the OT Show (C14, NEC, 24th and 25th November 2021).
Abacus is regarded as a leading specialist in accessible baths for adults and children with disabilities. Part of the Gainsborough Healthcare Group, Abacus is a UK manufacturer which works closely with Occupational Therapists, bathers and families to ensure positive bathing outcomes for all. Its Abacus Academy educational programme is available free to all healthcare professionals seeking support with clinical reasoning when specifying appropriate bathing equipment.
Alongside seminars in the Innovation Theatre, Adam will be presenting the following CPD sessions on the
Abacus stand:
Client centred bathing (Stand C14, 10:30-10:50am, 24th & 25th Nov)
Bathing is often overlooked as a meaningful occupation and in this session, we reflect on bathing assessments and challenge their client centredness. We discuss purposeful and meaningful occupation, reflecting on why we bathe and how to address this in practice.
Learning outcomes:
Understand the importance of bathing as a meaningful occupation
Be able to clearly assess the occupational bathing needs of your client
Review what it really means to work in a client centred manner
Understand and interpret the legislation to support your practice
Bathing and sleep (Stand C14, 12:00-12:20pm, 24th & 25th Nov)
Bathing assessments often become focused on the physical transfer of getting in and out of the bath. In this session we consider the occupation of bathing with a particular focus on how bathing can support sleep and positive routines.
Learning outcomes:
Develop greater appreciation of the link between bathing and sleep, using relevant research
Consider impact of a positive bedtime routine on clients and their carers
Reflect on current practice and maximising occupational outcomes
Bathing and pain reduction (Stand C14, 14:00-14:20pm, 24th & 25th Nov)
Bathing for pain reduction is often accepted as an appropriate intervention with robust evidence base. In this on-stand session we reflect on our perceptions and whether they can be supported using specific research examples. We also consider what further interventions could be considered to maximise clinical and occupational outcomes.
Learning outcomes:
Reflection on the evidence for bathing and pain reduction
Consider the research outcomes and how they can be used to maximise outcomes
Link legislation to research outcomes and reflections to justify specialist bathing adaptations.
* ENDS *